Objective: We aimed to develop an MRI brain-age prediction (BAP) model to evaluate differences between Parkinson's disease (PD) and healthy controls (HC). We further evaluated whether BAP associates with disease features in PD.
Background: PD is an age-associated neurodegenerative disease characterised by dopaminergic neuronal loss and structural changes in different areas of the brain, leading to motor and non-motor symptoms. Despite evidence for robust MRI-derived atrophy patterns in PD, its role in depicting disease pathophysiology and as a criterion for individual diagnosis remains unclear. Here, BAP based on MRI morphometric measures may be key as is now recognized as a summary marker of brain health, yet with unclear utility in PD.
Method: We build a machine-learning model based on T1w-MRI morphometric measures of 839 HC (mean age 63.3±13.4, 445 females), aged from 40-91 years. The model was trained on 652 and validated on 187 HC. We used four different FreeSurfer-derived morphometrics and their combination for brain-age prediction and test its reproducibility against a previously validated method (PRISM). We applied the model to 289 PD patients (mean age 62.6±8.5, 107 female). [Table 1] contains demographic and clinical details.
Results: BAP was robust for common MRI morphometrics, such as cortical thickness, volume, and surface area [Table 2]. PD patients had significantly older appearing brains compared to healthy controls (T = 2.16, P = 0.016). In PD patients, associations between predicted ages and clinical features emerged. Particularly, older apparent brains associated with greater motor symptom severity (UPDRS-III; r = 0.18, P = 0.003), higher progression (H&Y; r = 0.19, P = 0.002), worst cognitive performance (MoCA; r = 0.12, P = 0.04), impaired complex attention (TMA-A; r = 0.39, P <0.001) and worst executive functioning (TMA-B; r = 0.44, P <0.001). This effects remained when evaluating female and male PD separately.
Conclusion: BAP modelling is heterogeneous across brain morphometrics, but reproducible across used algorithms. BAP is clinically relevant and a combination of brain morphometry seems more accurate for BAP and sex-dimorphism evaluation. Thus, reinforcing the potential of BAP as a clinical biomarker for PD and represents a step towards multi-modality brain-age models that capture more age-related variability in neurodegeneration.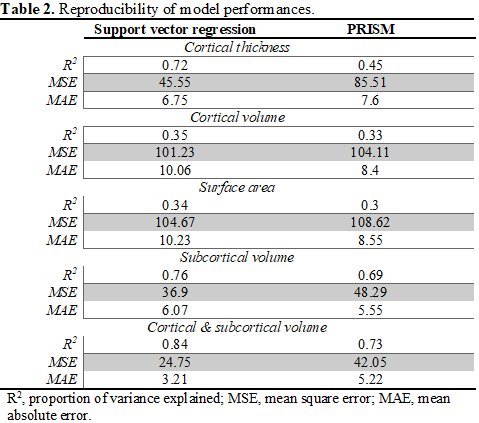 To cite this abstract in AMA style:
G. Gonzalez-Escamilla, P. Farag, M. Bange, S. Groppa. The brain-age framework in Parkinson's disease: evaluating MRI morphometry and sex-dimorphism [abstract].
Mov Disord.
2022; 37 (suppl 2). https://www.mdsabstracts.org/abstract/the-brain-age-framework-in-parkinsons-disease-evaluating-mri-morphometry-and-sex-dimorphism/. Accessed September 22, 2023.
« Back to 2022 International Congress
MDS Abstracts - https://www.mdsabstracts.org/abstract/the-brain-age-framework-in-parkinsons-disease-evaluating-mri-morphometry-and-sex-dimorphism/