Objective: Chorea-acanthocytosis (ChAc) is the most common subtype of neuroacanthocytosis syndrome, characterized by the presence of misshaped spiky red blood cells (acanthocytes) and associated neurological disorders. (1)
Orolingual dyskinesia is pathognomonic symptom and could cause self-mutilation. Surgical interventions such as globus pallidus interna (GPi) deep brain stimulation (DBS) have become an important option for treatment-resistant cases.
Background: 42-year-old female patient who presented with gradually increasing difficulty in walking was evaluated with the complaints of involuntary movements existing for ten years. Her first complaint was generalized tonic-clonic seizure and later orofaciolingual dyskinesia including self-biting of lip and oral mucosa together with moderate dystonia of the trunk and moderate-severe chorea of upper and lower extremities more on the right side arised. "Independence scale" (IS) score was 040 (Chronic care facility needed; limited self feeding, liquefied drink).
Method: The blood acanthocytosis of 30% of red blood cells in addition to prominent caudate atrophy helped us to clinically distinguish ChAc from other syndromes with chorea. Her epileptic seizures were under control with 3000 mg of levetiracetam. The daily living activities were mostly affected by generalized hyperkinesia and self-mutilating behavior of the lower face.
Results: Since optimal pharmacologic agents are ineffective to control the symptoms, GPi DBS treatment was performed. The neuromodulation parameters and test scores were shown in table 1. Although the patient was demonstrated 20% motor improvement (UHDRS) during the early post-op period; the improvement was decreased to 7.8% but the IS stayed at 050 at the first-year evaluation.
Conclusion: Currently, there is limited number of study assessing the long-term outcomes of ChAc cases treated with Gpi DBS. Retrospectively evaluated 15 patients were reviewed for both short and long term effects of neuromodulation therapy and recurrence of the symptoms after 6 months was implied (2). Therefore the close follow-up of the patients and fine adjustment of stimulation parameters are carried out to optimize the effect. Since the experience on initial programming and adjustment of stimulation parameters is lacking, controlled trials are needed to better assess the impact of GPi DBS on symptoms of ChAc patients.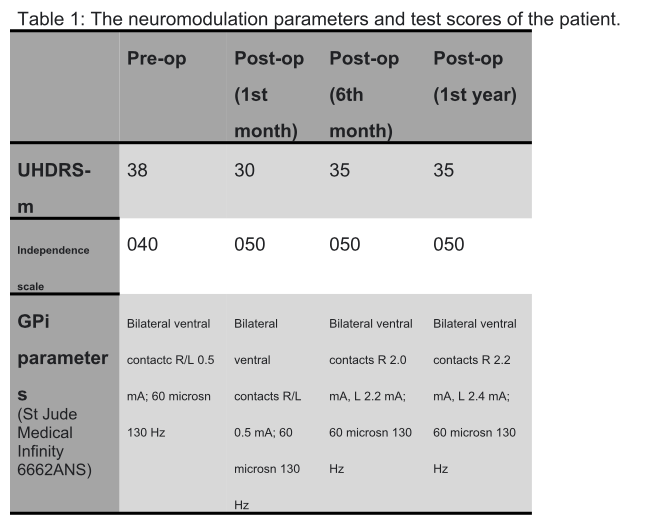 References: 1. Liu Y, Liu ZY, Wan XY, Guo. Progress in the Diagnosis and Management of Chorea-acanthocytosis. Chin Med Sci J. 2018;33(1):53-59. 2. Miquel M, Spampinato U, Latxague C et al. Short and Long Term Outcome of Bilateral Pallidal Stimulation in Chorea-Acanthocytosis. PLoS One 2013; 8(11):e79241.
To cite this abstract in AMA style:
SN. Erdem, H. Omercikoglu, F. Bayraklı, D. Günal. The Impact of DBS on Chorea- Acanthoctosis: Case Report [abstract].
Mov Disord.
2021; 36 (suppl 1). https://www.mdsabstracts.org/abstract/the-impact-of-dbs-on-chorea-acanthoctosis-case-report/. Accessed December 5, 2023.
« Back to MDS Virtual Congress 2021
MDS Abstracts - https://www.mdsabstracts.org/abstract/the-impact-of-dbs-on-chorea-acanthoctosis-case-report/