Objective: This case report demonstrates the potential of dual-tracer imaging (FDG + DOPA) PET MRI brain in diagnosing and distinguishing the patients with MSA-C from atypical Parkinsonism.
Background: The dual tracer PET MRI helps in confirmation of parkinsonian disorders and may also aid in illustrating various distribution patterns in different subtypes of MSA (Multisystem atrophy). The diagnosis of MSA is challenging with manifestations similar to supra nuclear palsy and parkinsonism with poor response to levodopa. Other presenting abnormalities may include cortico-spinal abnormality, autonomic and cerebellar dysfunctions.
Method: 56‑year‑old female presented with imbalance and acute episode of vertigo three years back. Clinically suspected as Atypical Parkinson's disease. MRI study showed prominent sulcal spaces in bilateral frontal & parietal lobes suggesting mild cortical atrophy and mildly prominent folia in cerebellum. The DOPA PET/MRI revealed reduced & patchy DOPA uptake qualitatively and quantitatively in bilateral striatum (putamen and caudate nucleus) SUV Max: putamen left 1.15; right 1.14; caudate nucleus left 1.24; right 1.32 respectively. Midbrain/ pons ratio was measured as 0.51(borderline). Mild susceptibility changes were noted in the dentate nucleus in bilateral cerebellum and basal ganglia.
Results: All of these features when put together help us to point it towards the MSA-C which was further confirmed by 18F-FDG study which showed regional FDG hypometabolism in bilateral frontal, parietal & temporal lobes and bilateral cerebellum.
Conclusion: PET imaging have a significant impact and play a crucial role in diagnosing neurodegenerative diseases. Clinical images of a live brain can provide tremendously unique information about the ongoing pathological changes and disease progression. This information can help identify newer targets and binding sites for newer drugs.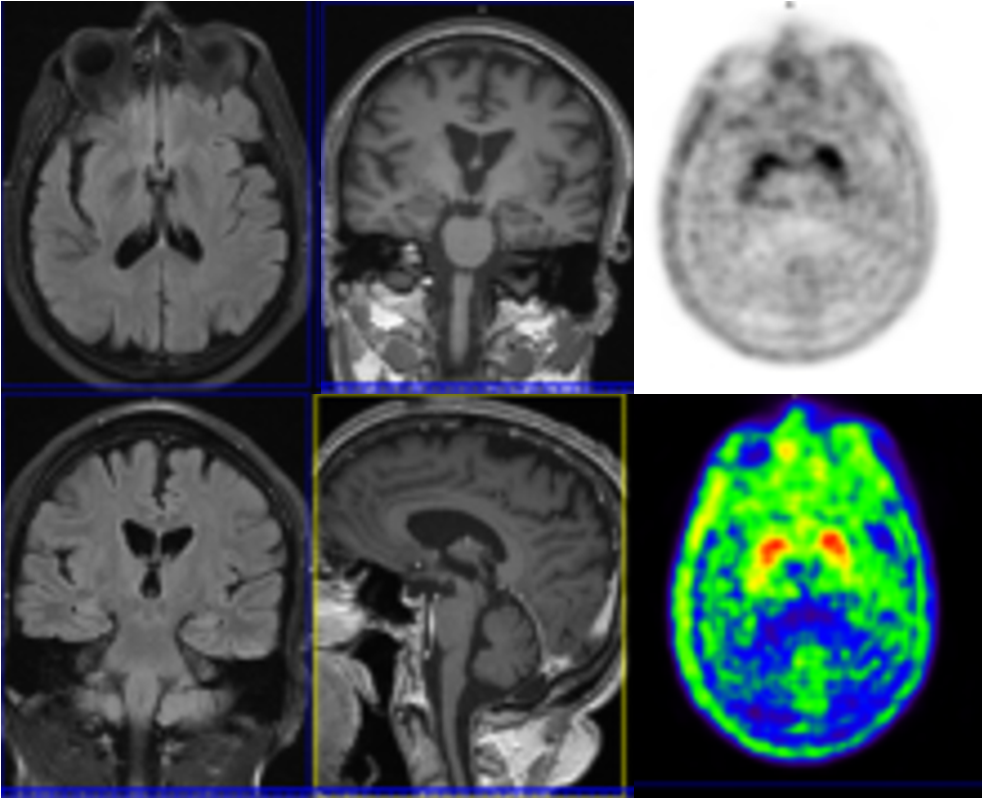 To cite this abstract in AMA style:
A. Mishra, D. Chaudhari. The pivotal role of dual tracer (FDG + DOPA) PET MRI brain for diagnosis of MSA-C. [abstract].
Mov Disord.
2023; 38 (suppl 1). https://www.mdsabstracts.org/abstract/the-pivotal-role-of-dual-tracer-fdg-dopa-pet-mri-brain-for-diagnosis-of-msa-c/. Accessed September 25, 2023.
« Back to 2023 International Congress
MDS Abstracts - https://www.mdsabstracts.org/abstract/the-pivotal-role-of-dual-tracer-fdg-dopa-pet-mri-brain-for-diagnosis-of-msa-c/