Objective: To develop an 'End-to-End Matrix' for Patient-Centric Drug Discovery and Development to increase the probability of success of clinical trials in Parkinson's disease.
Background: Lack of clear signs of efficacy remains the major driver for drug attrition in preclinical and clinical phases of drug development, representing the biggest hurdle for the approval of drugs with novel mechanisms of action.
Method: To increase the productivity of our drug discovery pipeline at Roche, we created an integrated process for small molecules which covers the fundamental steps from exposure to disease-relevant endpoints. To support this process, we have generated an 'End-to-End Matrix', consisting of elements such as the compound concentration at the target, compound-target binding as well as measurements of disease effects, in relevant animal models and/or targeted human populations with the disease of interest.
Results: In Parkinson's disease, we do have preclinical models to show all end-to-end matrix correlations, however, the overall translatability is poor. Amelioration of behavioral dysfunction in preclinical models often does not translate into clinical efficacy; thus, the development of novel objective clinical endpoints is warranted. The use of smart-watch and smart-phone allowed the introduction of digital endpoints, which may allow monitoring objectively, ecologically, and precisely functional changes of motor signs and can aid the development of drugs aimed at slowing Parkinson's disease.
Conclusion: To increase our probability of success in testing novel compounds to slow Parkinson's disease, we have to employ a biochemical translational biomarker strategy based on the mechanistic mode of action to select the right doses to ensure maximum target engagement in the clinical setting. This can be tested in the right population, defined by the presence of the biological abnormalities of interest (e.g. aggregated alpha-synuclein, inflammation), with the right endpoints, moving away from sporadic in-clinic behavioral tests towards at-home ecological, objective, and continuous assessments of disease progression with virtual/digital health technologies.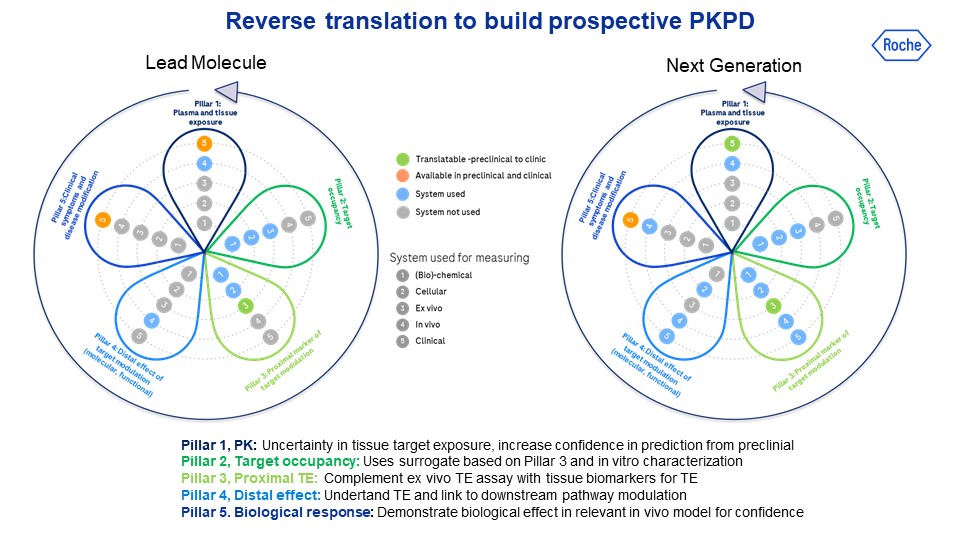 To cite this abstract in AMA style:
A. Paehler, A. Stepan, E. Mracsko, K. Taylor, B. Zinnhardt, H. Binch, L. Gobbi, T. Luebbers, A. Olivares, R. Rodriguez Sarmiento, U. Grether, S. Dudal, G. Pagano. The Roche 'End-to-End Matrix' for Patient-Centric Drug Discovery and Development – Focus on Parkinson's disease [abstract].
Mov Disord.
2023; 38 (suppl 1). https://www.mdsabstracts.org/abstract/the-roche-end-to-end-matrix-for-patient-centric-drug-discovery-and-development-focus-on-parkinsons-disease/. Accessed September 27, 2023.
« Back to 2023 International Congress
MDS Abstracts - https://www.mdsabstracts.org/abstract/the-roche-end-to-end-matrix-for-patient-centric-drug-discovery-and-development-focus-on-parkinsons-disease/