Session Information
Session Time: 1:45pm-3:15pm
Location: Exhibit Hall C
Objective:
To study the function of the Superior Colliculus (SC) in de novo Parkinson's disease (PD) patients.
Background:
The SC function is impaired in parkinsonian rats (Rolland et al., Neuroscience, 2013). However, its function in patients with PD has not been investigated so far. In a recent fMRI study our group has showed that the SC response can be modulated by luminance contrast in healthy subjects (Bellot et al. Neuroimage 2016). We hypothesize that the SC is affected also in PD, related to the SC connections with the basal ganglia and other surrounded structures.
Methods:
Luminance contrast processing was explored along the visual pathways: i) in de novo PD patients before and after the introduction of dopaminergic treatment, and ii) in age-matched healthy control subjects. Using 3T fMRI, the luminance contrast response of three regions of interest (ROIs), the SC, the Lateral Geniculate Nucleus (LGN), and the primary visual cortex (V1) was assessed. Achromatic checkerboards varying in luminance (1-9%), flashing at 4 Hz was alternately presented in each visual hemi-field. Perfusion imaging was also used to assess possible vascular alterations.
Results:
Thirteen PD patients and 13 paired controls were included. Ten PD patients were also studied between 2 (n=6) and 6 months (n=4) after starting dopaminergic treatment. Compared to controls, untreated PD patients presented atypical responses to luminance contrast in the SC, and for one half of them also in LGN. V1 responses were not altered. There was a trend to response normalization in these two subcortical structures after at least 6-month dopaminergic treatment [figure1].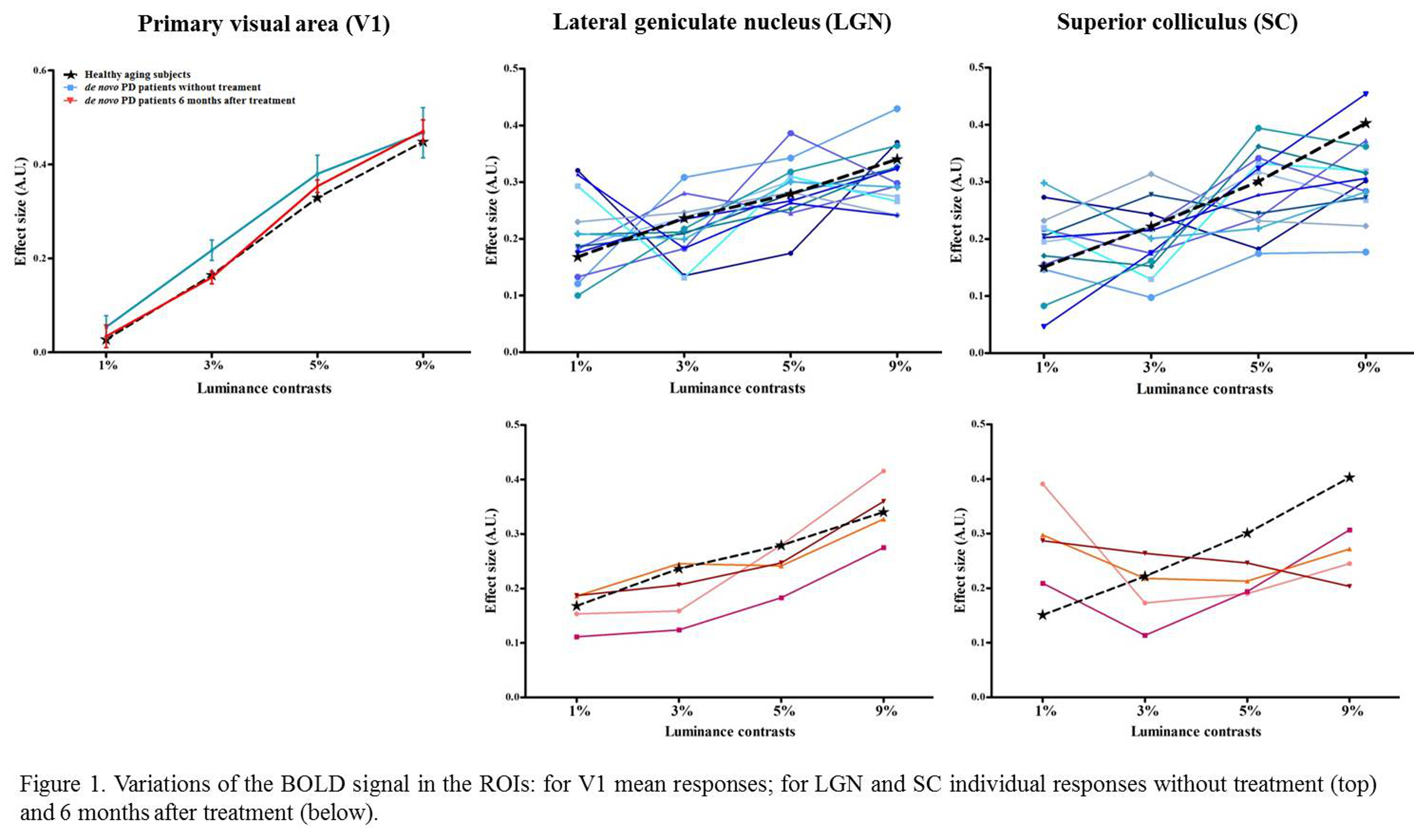 Conclusions:
The SC is altered in de novo PD patients, supporting its role as an early biomarker of the disease. Dopaminergic treatment seems to be able to progressively restore the SC function.
References: Rolland, M., Carcenac, C., Overton, P. G., Savasta, M.and Coizet, V. (2013). Enhanced visual responses in the superior colliculus and subthalamic nucleus in an animal model of Parkinson's disease. Neuroscience, 252, 277-288. Bellot, E., Coizet, V., Warnking, J., Knoblauch, K., Moro, E. and Dojat, M. (2016). Effects of aging on low luminance processing in humans. Neuroimage, 139, 415-426.
To cite this abstract in AMA style:
E. BELLOT, E. BELLOT, V. COIZET, S. MEONI, P. PELISSIER, B. DEBU, M. DOJAT, E. MORO. The Superior Colliculus is impaired in de novo Parkinson's disease patients [abstract].
Mov Disord.
2017; 32 (suppl 2). https://www.mdsabstracts.org/abstract/the-superior-colliculus-is-impaired-in-de-novo-parkinsons-disease-patients/. Accessed December 11, 2023.
« Back to 2017 International Congress
MDS Abstracts - https://www.mdsabstracts.org/abstract/the-superior-colliculus-is-impaired-in-de-novo-parkinsons-disease-patients/