Objective: The present study aimed to assess the effects of citral nanoliposome on Parkinson's treatment in a rat model.
Background: Parkinson's disease is the most common neurodegenerative movement disorder, the pathogenesis of which is partly related with oxidant status and inflammatory responses. The administration of citral with antioxidant and anti-inflammatory properties may alleviate the negative effects of Parkinson. Considering the relation between oxidative and inflammatory factors with the PD, a strategy should be adopted for modulating antioxidant and inflammatory factors. Given the importance of the anti-inflammatory and antioxidant properties of nanoliposome-coated citral in the PD, the current study sought to evaluate the effects of citral nanoliposome on treating the disease in a rat model.
Method: In this study, citral nanoliposome was successfully produced through employing a facile method. Additionally, 40 Wistar rats were divided into four groups (n=10), one of which was considered as Sham and received no treatment. However, the other groups were administrated with rotenone, and/or treated with 5 and 10 mg/kg of citral for 21 days. Behavioral responses were evaluated based on the forced swimming test and hippocampal-dependent memory deficit. The rates were examined for tissue lipid peroxide (LPO), as well as the activities of superoxide dismutase (SOD) and glutathione peroxidase (GPx) in brain. Further, they were investigated in terms of expression of brain-derived neurotrophic factor (BDNF), tumor necrosis factor (TNF-α), interleukin-6 (IL-6), and nuclear factor kappa B (NF-κB).
Results: The results suggested more immobility, higher LPO level, and a rise in the expression of TNF-α, IL-6, and NF-κB (P=0.001) following rotenone administration (Figure 1,2). Furthermore, this treatment decreased climbing, retention latency, SOD and GPx activities, and BDNF expression (P=0.001). The use of citral, especially in higher dose, reversed all the adverse effects of rotenone on behavioral responses, antioxidant status, BDNF, and inflammatory genes (Figure 3,4).
Conclusion: Parkinson represents a closed relationship with movement deficiency, increased inflammation, and reduced oxidant status. Citral administration can be considered as a therapeutic option following future studies.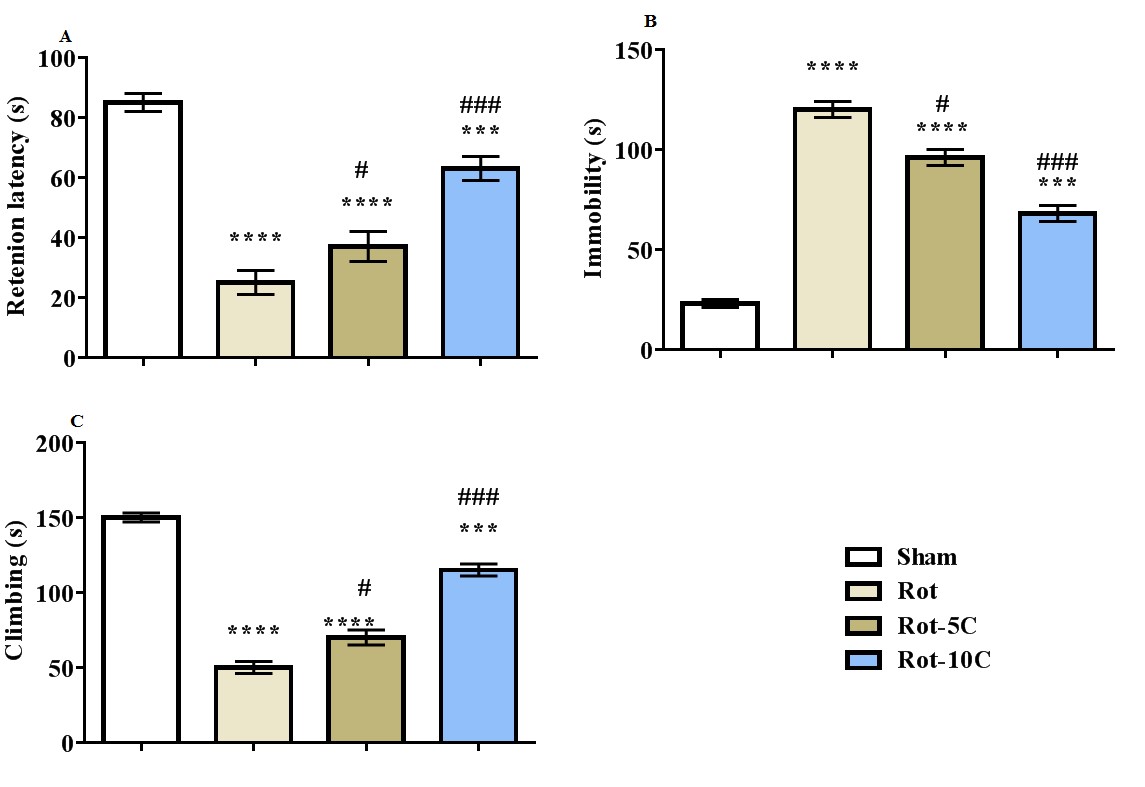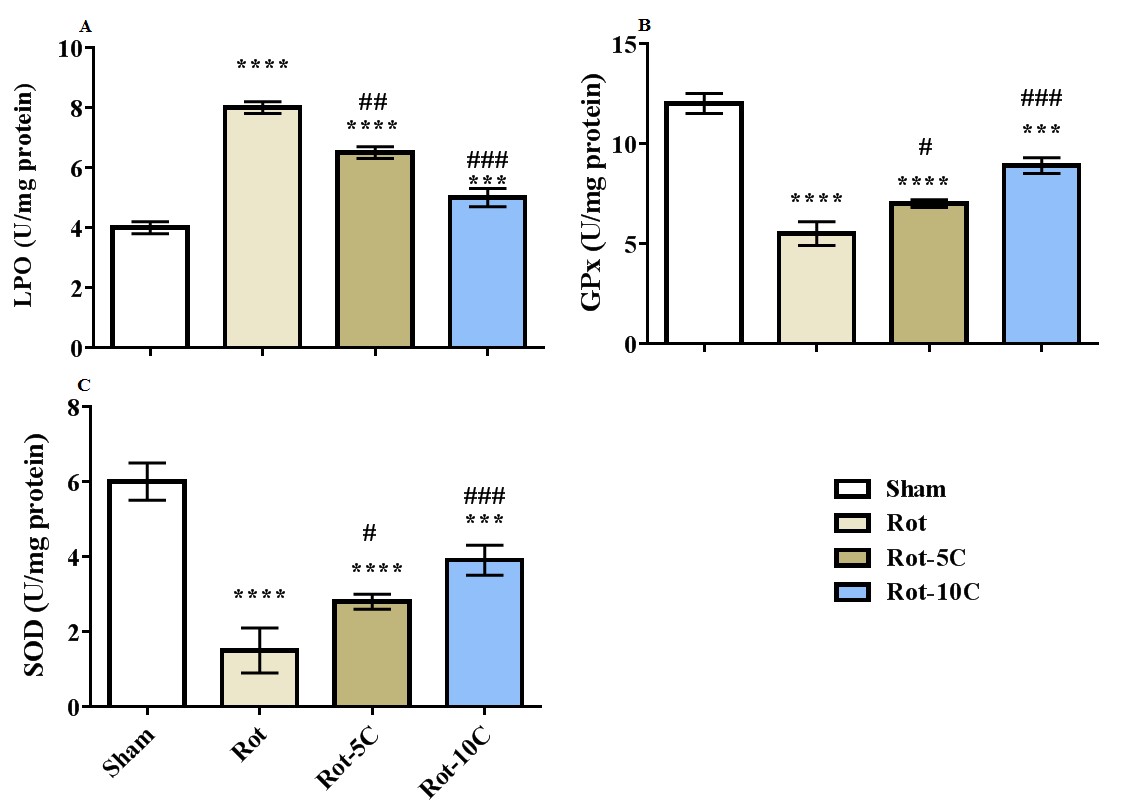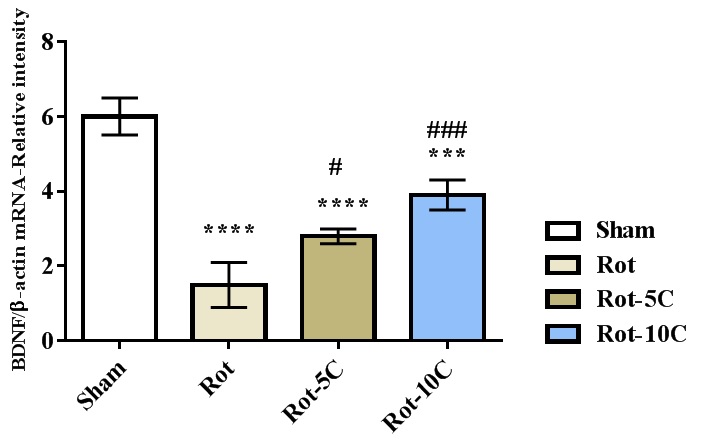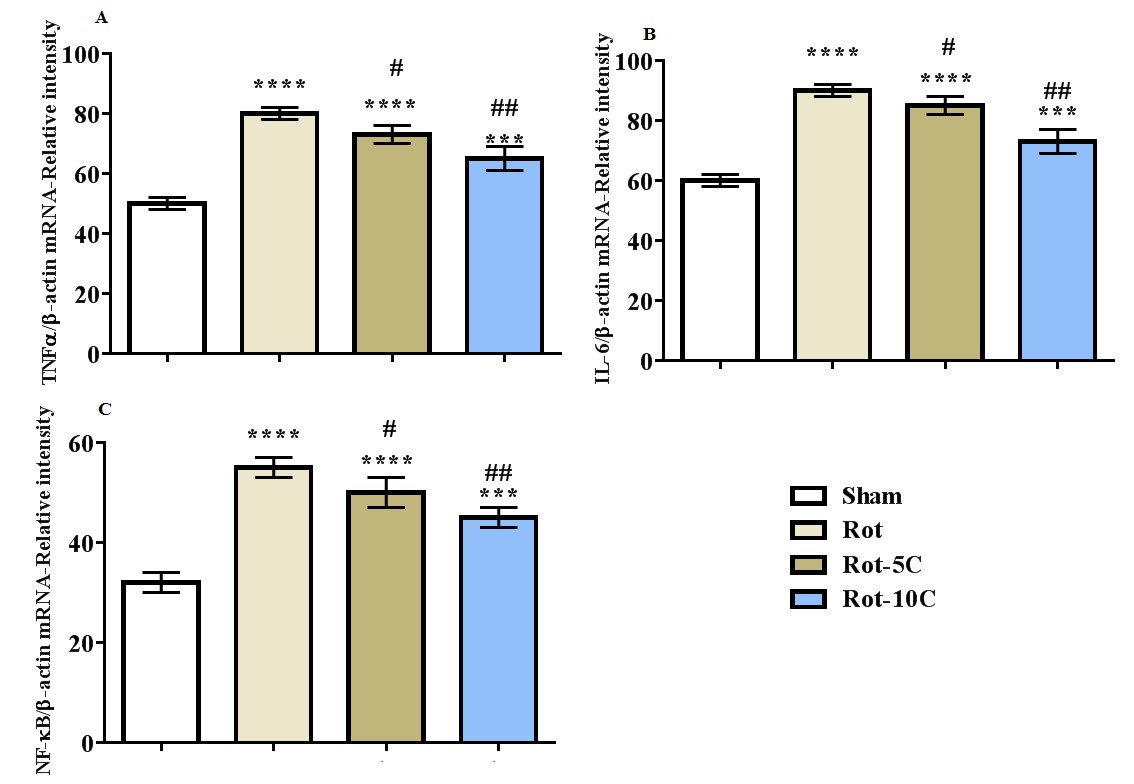 References: 1- Seyed Ahmadi SG, Farahpour MR, Hamishehkar H. Topical application of Cinnamon verum essential oil accelerates infected wound healing process by increasing tissue antioxidant capacity and keratin biosynthesis. The Kaohsiung journal of medical sciences. 35 (2019) 686-694. https://doi.org/10.1002/kjm2.12120
2- Farahpour MR. Medicinal plants in wound healing. Wound Healing-Current Perspectives. (2019) 33-47. https://doi.org/10.5772/intechopen.80215
3- Farahpour MR, Sheikh S, Kafshdooz E, Sonboli A. Accelerative effect of topical Zataria multiflora essential oil against infected wound model by modulating inflammation, angiogenesis, and collagen biosynthesis. Pharmaceutical Biology. 59 (2021) 1-10. https://doi.org/10.1080/13880209.2020.1861029
4- zadeh Gharaboghaz MN, Farahpour MR, Saghaie S. Topical co-administration of Teucrium polium hydroethanolic extract and Aloe vera gel triggered wound healing by accelerating cell proliferation in diabetic mouse model. Biomedicine & Pharmacotherapy. 127 (2020)110189. https://doi.org/10.1016/j.biopha.2020.110189
5- Ghodrati M, Farahpour MR, Hamishehkar H. Encapsulation of Peppermint essential oil in nanostructured lipid carriers: In-vitro antibacterial activity and accelerative effect on infected wound healing. Colloids and Surfaces A: Physicochemical and Engineering Aspects. 564 (2019) 161-169. https://doi.org/10.1016/j.colsurfa.2018.12.043
6- Filipczak N, Yalamarty SSK, Li X, Khan MM, Parveen F, Torchilin V. Lipid-Based Drug Delivery Systems in Regenerative Medicine. Materials. 14 (2021) 5371. https://doi.org/10.3390/ma14185371
7- Hussain A, Samad A, Ramzan M, Ahsan MN, Ur Rehman Z, Ahmad FJ. Elastic liposome-based gel for topical delivery of 5-fluorouracil: in vitro and in vivo investigation. Drug delivery. 23 (2016) 1115-1129. https://doi.org/10.3109/10717544.2014.976891
To cite this abstract in AMA style:
N. Moradikor, M. Haghipanah, W. Mohamed. Therapeutic effects of citral nanoliposome on Parkinson's treatment in a rat model: Modulation via neurochemical, inflammatory and antioxidant pathways [abstract].
Mov Disord.
2023; 38 (suppl 1). https://www.mdsabstracts.org/abstract/therapeutic-effects-of-citral-nanoliposome-on-parkinsons-treatment-in-a-rat-model-modulation-via-neurochemical-inflammatory-and-antioxidant-pathways/. Accessed September 23, 2023.
« Back to 2023 International Congress
MDS Abstracts - https://www.mdsabstracts.org/abstract/therapeutic-effects-of-citral-nanoliposome-on-parkinsons-treatment-in-a-rat-model-modulation-via-neurochemical-inflammatory-and-antioxidant-pathways/