Objective:
We reported two interesting cases report of brain tumor patients with different anatomic location presenting secondary parkinsonism
Background: Movement disorders caused by brain tumors are rare. The literature reports on a paucity of cases where tumors cause symptoms resembling Parkinson's disease. Multiple tumor areas are associated with secondary parkinsonism
Method: The first patient was hospitalized on 2022, diagnosed with Meningothelial meningioma ( WHO grade I) on the left frontal lobe. The second was outpatient and run on diagnostic assessment for tumor in left basal ganglia suggetif low grade glioma
Results: First case, 46 y.o female was hospitalized because of severe headache and loss of vision. Her physical exam showed weakness of her right side of the body and moderate resting tremor of the right hand, bilateral slight intention tremor and bradikinesia. Funduscopy examination revealed athropy papil in both eyes. MRI was performed and it evidenced mass suggetif to Meningioma located in the left frontal area (figure 1). Parkinson medication drug ( levodopa) gave improvement on her tremor. The patient underwent tumor resection and the parkinson sign improved after surgery.
Second case, woman 50 y.o came to neurology clinic as outpatient with no significant medical history, presented with 3 month history of progressive resting tremor of the bilateral hand. The patient reported no headache or visual disturbance. On examination, she showed features of Parkinson sign, including bradykinesia and mild postural instability. The Head MRI showed mass in left basal ganglia (figure 2). There was significant improvement of her Parkinson sign with levodopa and dopamine agonis medication. Both cases showed similar parkinson sign even radiological examination result revealed different anatomic location of the mass
Conclusion: Parkinson's sign can be caused by tumors in different brain locations include cortex and basal ganglia. This case report showed that different mechanism underlying causes may present secondary parkinsonism in brain tumor patients. Removal of the mass can improve the parkinsonian sign although chronic compression of the basal ganglia from tumor mass effects may cause residual parkinsonism features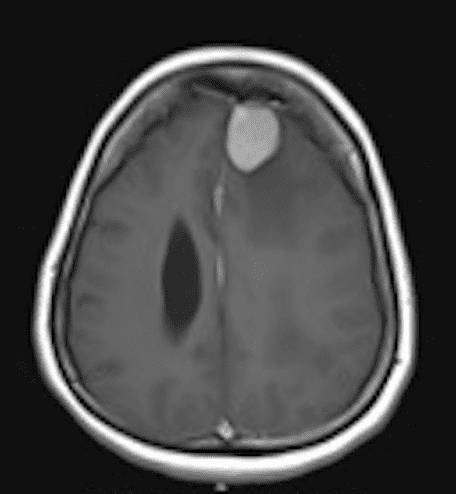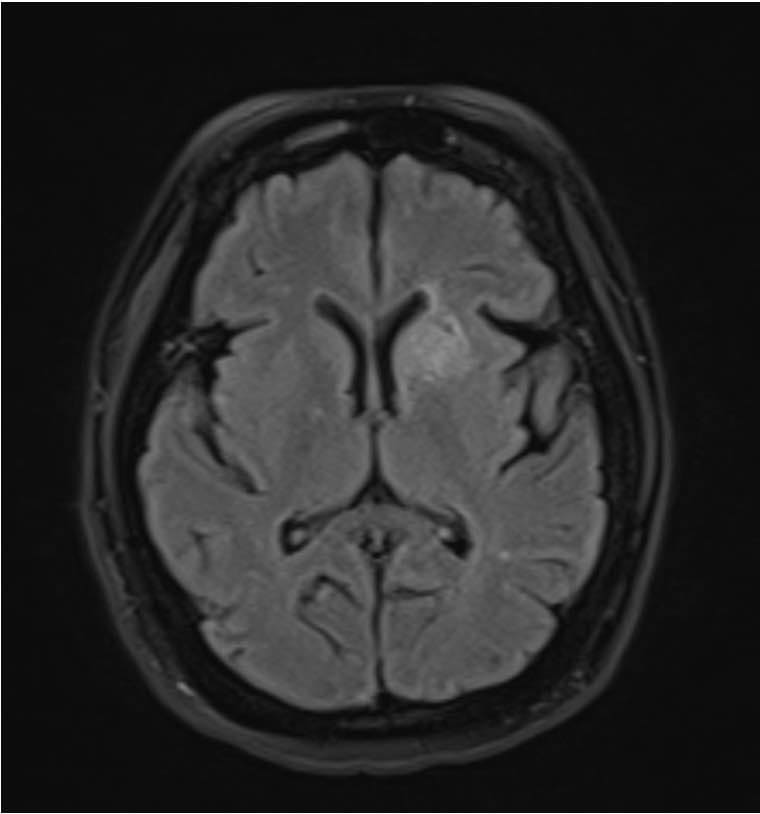 To cite this abstract in AMA style:
Y. Diansari, S. Marisdina. Two Distinctive Anatomic Location in Brain Tumor Patients with Secondary Parkinsonism Manifestation: A Serial Case Report [abstract].
Mov Disord.
2023; 38 (suppl 1). https://www.mdsabstracts.org/abstract/two-distinctive-anatomic-location-in-brain-tumor-patients-with-secondary-parkinsonism-manifestation-a-serial-case-report/. Accessed September 28, 2023.
« Back to 2023 International Congress
MDS Abstracts - https://www.mdsabstracts.org/abstract/two-distinctive-anatomic-location-in-brain-tumor-patients-with-secondary-parkinsonism-manifestation-a-serial-case-report/