Session Information
Session Time: 1:45pm-3:15pm
Location: Agora 3 West, Level 3
Objective: Assess the percentages of advanced Parkinson's disease (APD) patients treated with levodopa-carbidopa intestinal gel (LCIG) as a monotherapy or with add-on PD medications and the reasons for changes in add-on PD medications throughout LCIG treatment.
Background: This is the first study fully dedicated to collecting real-world data assessing add-on PD medication use with LCIG during long-term therapy in a large patient cohort.
Method: COSMOS is a multi-country, retrospective, cross-sectional, post-marketing observational study (NCT03362879). Main inclusion criteria were APD patients treated for at least 12 months by the same physician since LCIG initiation. Patients were grouped into LCIG monotherapy (LCIG was the only treatment for patient´s PD), LCIG monotherapy during infusion hours (allowing add-on PD medications [eg, oral or transdermal] only after LCIG infusion was stopped), and those on LCIG + add-on therapy. Study assessments were obtained at the patient visit and collected retrospectively including if patients were on monotherapy and descriptions of add-on PD medications and LCIG infusion settings.
Results: This real-world study included 409 LCIG treated APD patients from 49 clinics in 14 countries. Patient demographics and baseline disease characteristics are presented in Table 1. Mean LCIG treatment duration at the study visit was 35.7 (range: 12.0-139.3) months with 9.7% of patients (n=39) on 24h/day LCIG infusion. Preliminary data indicate that overall, the percentage of patients on LCIG monotherapy and LCIG monotherapy during infusion hours increased from LCIG initiation to month 12 while the percentage of patients on LCIG + add-on therapy decreased at month 12 (Table 2). In all groups, a majority of patients discontinued the use of any add-on PD medication at the initiation of LCIG treatment. Safety data are currently being analyzed and will be included in the presentation. [table1] [table2]
Conclusion: Analyses are ongoing; however, these preliminary data indicate that during routine clinical practice LCIG treatment can be initiated and used long term in APD patients with many patients well controlled using LCIG monotherapy. Furthermore, for patients not on monotherapy, LCIG provides important reductions in add-on PD medications.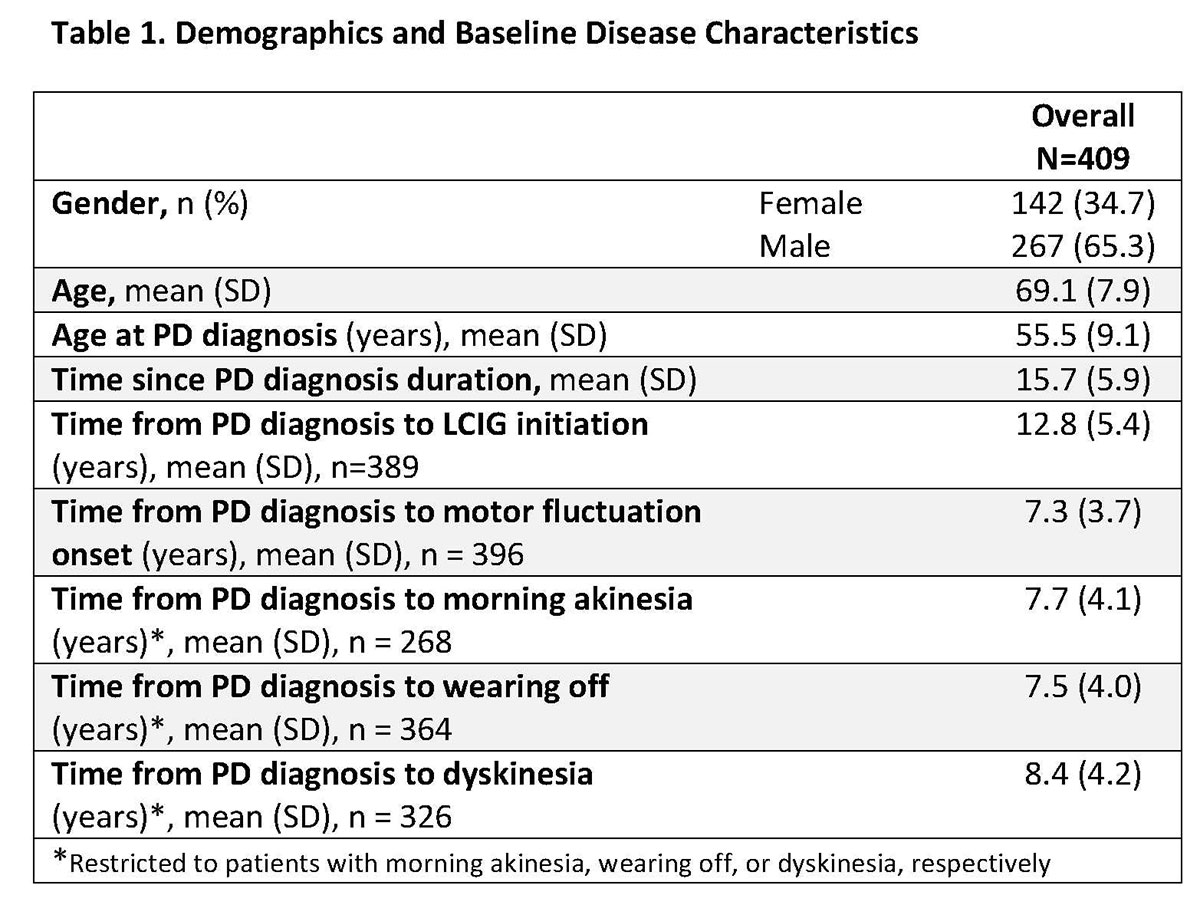 To cite this abstract in AMA style:
A. Fasano, JC. Parra, T. Gurevich, R. Jech, N. Kovács, P. Svenningsson, J. Szász, L. Bergmann, A. Johnson, O. Sanchez-Soliño, Z. Tang, L. Vela-Desojo. Utilization of Monotherapy and Combination Therapies in Advanced Parkinson Disease Patients During Levodopa-Carbidopa Intestinal Gel Treatment from the COSMOS Study [abstract].
Mov Disord.
2019; 34 (suppl 2). https://www.mdsabstracts.org/abstract/utilization-of-monotherapy-and-combination-therapies-in-advanced-parkinson-disease-patients-during-levodopa-carbidopa-intestinal-gel-treatment-from-the-cosmos-study/. Accessed December 7, 2023.
« Back to 2019 International Congress
MDS Abstracts - https://www.mdsabstracts.org/abstract/utilization-of-monotherapy-and-combination-therapies-in-advanced-parkinson-disease-patients-during-levodopa-carbidopa-intestinal-gel-treatment-from-the-cosmos-study/