Session Information
Session Time: 1:45pm-3:15pm
Location: Hall 3FG
Objective: After the creation of simple tool to aid in selection of the proper target for Deep Brain Stimulation (DBS) in Parkinson's Disease (PD), our goal was to show how we were able to integrate it into Thomas Jefferson's multidisciplinary Movement Disorders Center
Background: Two targets exist for DBS in PD, the subthalamic nucleus (STN) and globus pallidus interna (GPi). Although there are advantages and disadvantages to implanting in either target, current evidence does not guide selection of the appropriate target in the individual patient. We believe that in select cases, certain factors can help to determine the ideal target for patients.
Methods: We performed a Pubmed search of all available DBS studies comparing STN to GPI between 1998 and 2016, identifying 14 such studies. We then identified 6 factors that we believe could help guide our decision: Age, cognition, mood, dystonia, gait dysfunction, and levodopa-induced dyskinesia. Using the current data, we created a scoring tool that would evaluate all 6 factors for each patient. For each, a score is given from -3 to +3 based on the instructions provided [Table 1]. The sum of each category is calculated. A net positive total score suggests GPi may be the better target, while a net negative total score suggests STN may be the better target. We then spent the next 6 months evaluating the tool looking specifically at 1) How long it takes to complete in office and 2) How easy it is to use.
Results: We used the rubric on prospective DBS patients in our clinic. The average time to complete the rubric was 5-10 minutes. For ease of use, on a scale of 1-10 (1 being easy, 10 being difficult), the average ease of use was 3. Consistently, the target selected by the tool matched up with the group's consensus on where to implant.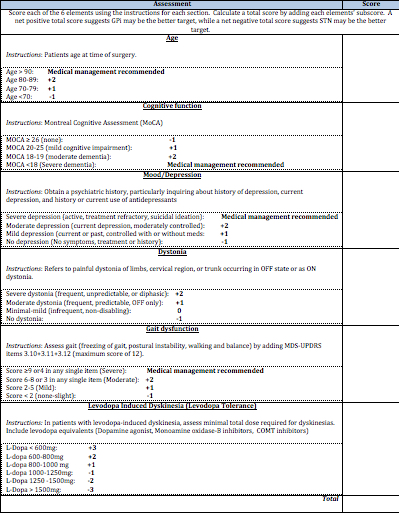 Conclusions: We have created a preliminary tool that we plan to use in our Multidisciplinary DBS Center that we hope will aid in the decision on where to implant. We have shown over a 6-month period that it is both easy and quick to use. It was seamlessly integrated into our center. Additionally, for patients where there the group was divided, the rubric provided an objective measure to aid in the selection process.
To cite this abstract in AMA style:
L. Meytin, TW. Liang, J. Ratliff. An Objective Tool to Guide Target Selection for DBS in PD (GPi vs STN) – integration into Thomas Jefferson's multidisciplinary Movement Disorders Center [abstract].
Mov Disord.
2018; 33 (suppl 2). https://www.mdsabstracts.org/abstract/an-objective-tool-to-guide-target-selection-for-dbs-in-pd-gpi-vs-stn-integration-into-thomas-jeffersons-multidisciplinary-movement-disorders-center/. Accessed December 6, 2023.
« Back to 2018 International Congress
MDS Abstracts - https://www.mdsabstracts.org/abstract/an-objective-tool-to-guide-target-selection-for-dbs-in-pd-gpi-vs-stn-integration-into-thomas-jeffersons-multidisciplinary-movement-disorders-center/