Objective: We describe an atypical imaging finding in a patient with corticobasal syndrome (CBS) and a genetic diagnosis of frontotemporal lobar dementia (FTLD) associated with a progranulin gene (GRN) mutation.
Background: CBS is clinically characterized by asymmetric apraxia, rigidity, dystonia, and often neurocognitive symptoms, though underlying pathology is variable. Neuroimaging classically reveals asymmetric cortical atrophy. FTLD describes a group of neurodegenerative disorders that exist on a spectrum and include neurocognitive and movement disorders. GRN mutations, inherited in an autosomal dominant fashion, lead to pathologic build-up of TAR DNA-binding protein 43 (TDP-43) and have been identified as a cause of FTLD presenting with a CBS phenotype. In CBS due to GRN-related FTLD, atrophy has been reported to be more severe and widespread with a predilection for the prefrontal and temporal lobes when compared to other CBS etiologies [1]. Atrophy has been reported in the brainstem, though asymmetry has not been described [2].
Method: Case-report.
Results: A 62-year-old man presented with progressive personality changes, memory loss, left-sided involuntary jerking movements and incoordination. His family history was notable for three maternal aunts/uncles with parkinsonism or dementia, a father with early-onset Alzheimer's disease, and a paternal aunt with dementia. Examination revealed primarily left-sided apraxia, neglect, dystonia, and rigidity. Brain MRI demonstrated asymmetric atrophy predominantly involving the right frontal and temporal lobes, but also the parietal lobe and notably of the right midbrain [figure1]. Genetic testing identified a single heterozygous pathogenic variant (c.1252 C>T; p.R418*) in the GRN gene, consistent with a diagnosis of GRN-related FTLD.
Conclusion: To the best of our knowledge this is the first report of asymmetric midbrain atrophy associated with CBS caused by GRN-related FTLD. We hope that this observation may add to the body of work assessing neuroimaging as a potential biomarker for CBS etiology.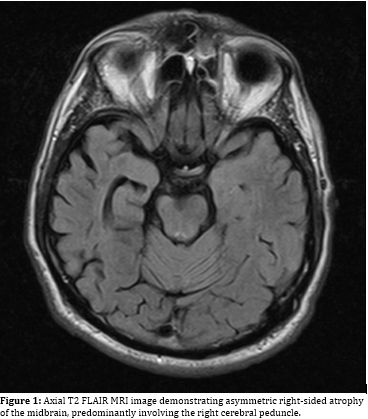 References: [1] Whitwell JL, Jack CR Jr, Boeve BF, et al. Imaging correlates of pathology in corticobasal syndrome. Neurology. 2010;75(21):1879-1887. doi:10.1212/WNL.0b013e3181feb2e8. [2] Lee SE, Rabinovici GD, Mayo MC, et al. Clinicopathological correlations in corticobasal degeneration. Ann Neurol. 2011;70(2):327-340. doi:10.1002/ana.22424.
To cite this abstract in AMA style:
A. Ameri, A. Mahajan, M. Rosenbaum, L. Verhagen Metman. Asymmetric midbrain atrophy in a patient with progranulin-related FTLD [abstract].
Mov Disord.
2022; 37 (suppl 2). https://www.mdsabstracts.org/abstract/asymmetric-midbrain-atrophy-in-a-patient-with-progranulin-related-ftld/. Accessed September 28, 2023.
« Back to 2022 International Congress
MDS Abstracts - https://www.mdsabstracts.org/abstract/asymmetric-midbrain-atrophy-in-a-patient-with-progranulin-related-ftld/