Objective: To demonstrate a case of Diabetic striatopathy presenting without hyperkinetic movements
Background: Diabetic striatopathy is an uncommon neurological complication associated with poorly controlled Diabetes Mellitus [DM] that can present as chorea and/or ballismus. It is most frequently reported in elderly female patients, typically Asian with type II DM. Chorea and ballismus develop rapidly during episodes of non-ketotic hyperglycemia, can be unilateral or bilateral, and, symptoms usually resolve on normalization of blood glucose levels. Seizures in diabetic striatopathy have rarely been described.
Method: Case report from a tertiary medical center
Results: A 70-year-old Indian female was newly diagnosed with type 2 DM when she presented to ER in morning with altered sensorium [GCS 11] and h/o multiple episodes of generalized convulsions the previous night. On admission, RBS was 512 mg/dL and HbA1c was 13.10%. No urinary ketone was detected. CT head was obtained which showed mild hyper-attenuation of the right caudate and lentiform nucleus without mass effect [figure 1], suggesting radiological features of diabetic striatopathy, even though she did not have any hyperkinetic movement. Brain MRI was performed for confirmation which showed high T1 signal changes with corresponding low signal on T2 in the right caudate and lentiform nucleus [figure 2], confirming CT findings of diabetic striatopathy. An EEG was completed and was compatible with diffuse encephalopathy without epileptiform discharges or lateralizing signs. The patient significantly improved with insulin therapy and was discharged home after 7 days.
Conclusion: Only few cases of diabetic striatopathy are reported in literature which are presented without chorea or ballismus. The exact pathophysiology of Seizures in the context of non-ketotic hyperglycemia remains unclear and many hypothesis are postulated including striatal dysfunction induced by hyperglycemia. Physicians should be aware of the various unusual clinical presentations of this entity for prompt diagnosis and treatment.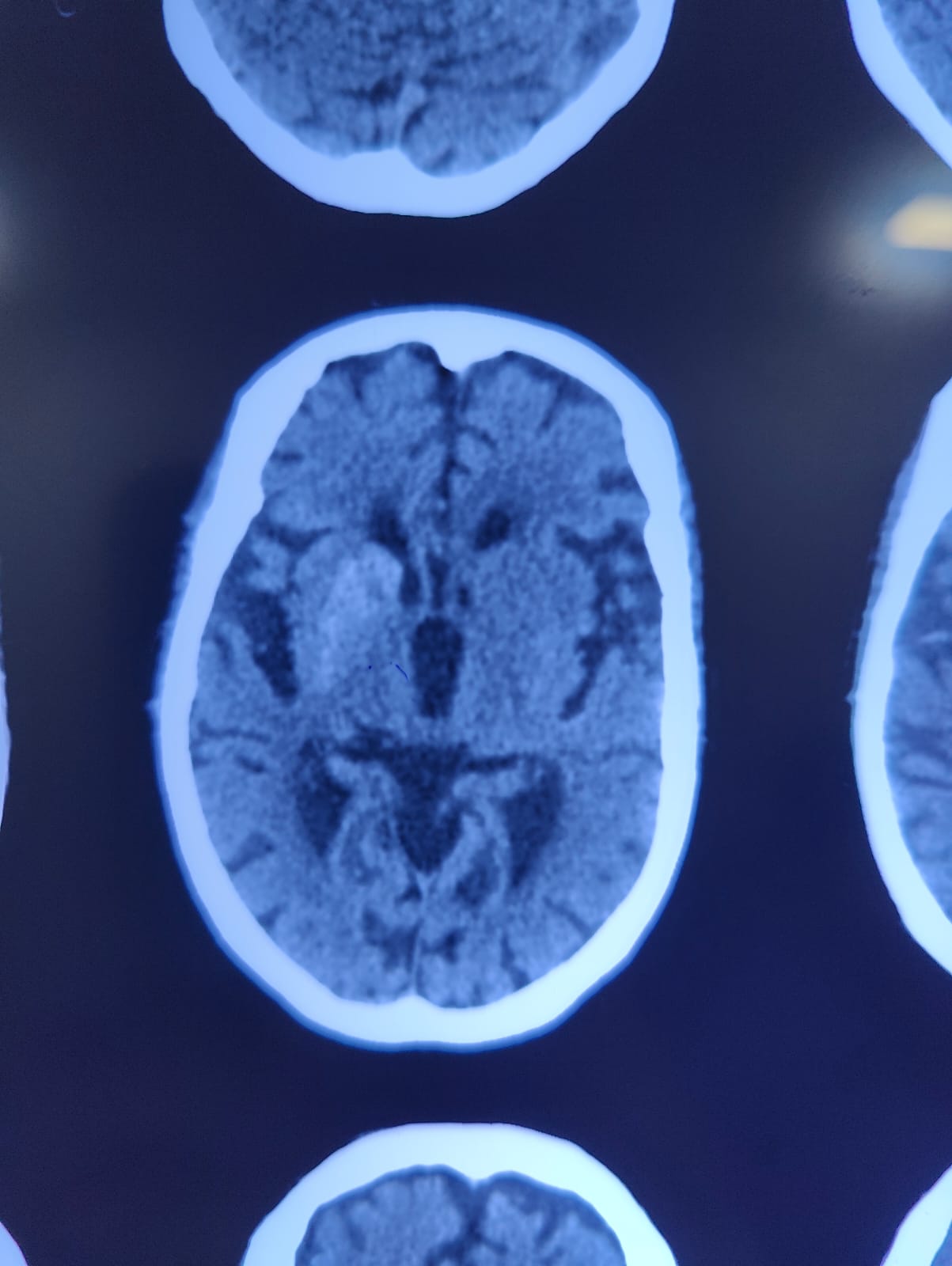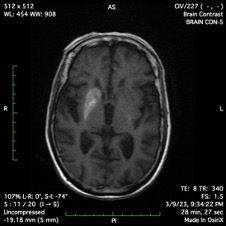 To cite this abstract in AMA style:
S. Bhalja, C. Sarvakar, S. Garg. Diabetic striatopathy presenting without hyperkinetic movements [abstract].
Mov Disord.
2023; 38 (suppl 1). https://www.mdsabstracts.org/abstract/diabetic-striatopathy-presenting-without-hyperkinetic-movements/. Accessed September 21, 2023.
« Back to 2023 International Congress
MDS Abstracts - https://www.mdsabstracts.org/abstract/diabetic-striatopathy-presenting-without-hyperkinetic-movements/