Objective: To determine the psychosocial function of patients with Parkinson's disease, with history of subthalamic nucleus stimulation, using the SCOPA-PS questionnaire.
Background: Parkinson's disease (PD) complications and progressive symptoms implies a deterioration in the quality of life [1]. In addition, the economic burden for patients increases with the severity of the disease [2]. Stimulation of the subthalamic nucleus results in both a significant improvement in Parkinson's motor disability and L-DOPA-induced motor disability, as well as a reduction in the daily doses of L-DOPA [3]. This study contemplates the application of the "SCOPA-PS" questionnaire as an instrument for measuring the physical and psychosocial status of patients with PD [4], and represents the most significant study in Mexico to evaluate the impact of NST stimulation as a treatment for PD.
Method: Patients with Parkinson's disease and history of deep brain stimulation of the STN were included. Clinical and demographic characteristics were reviewed, and we used the Scale for Outcomes in Parkinson's Disease – Psychosocial (SCOPA-PS) to determine social and psychological function.
Results: 47 patients with PD who underwent DBS of the STN were reviewed and took the SCOPA-PS survey. 87% of patients (41) had a favorable outcome (<19 points) in regard to their QoL (Quality of Life) measured by SCOPA-PS after STN-DBS, 13% of them remained with a moderate decrease in QoL (20-28). We compared variables like age, sex, years from diagnosis to surgery, education, marital status, pre operative H&Y, which were not significant (p>0.05). Poverty was a risk factor for a poor outcome with an OR of 3.67 (CI 3.36-4.05) and 83% of the patients who had a poor outcome, had one or more associated neurological diseases.
Conclusion: To our knowledge, this is the first study of Latin American PD patients who underwent STN-DBS to evaluate their psychosocial outcomes in the long term, using SCOPA-PS. This database is one of the largest registries of DBS candidates in Mexico and all of them underwent surgery in the largest Neurological Neurosurgical Center in this country. Moreover, highlighting the positive effects of this procedure for almost 90% of our cohort, which is in accordance with other studies in this matter [5].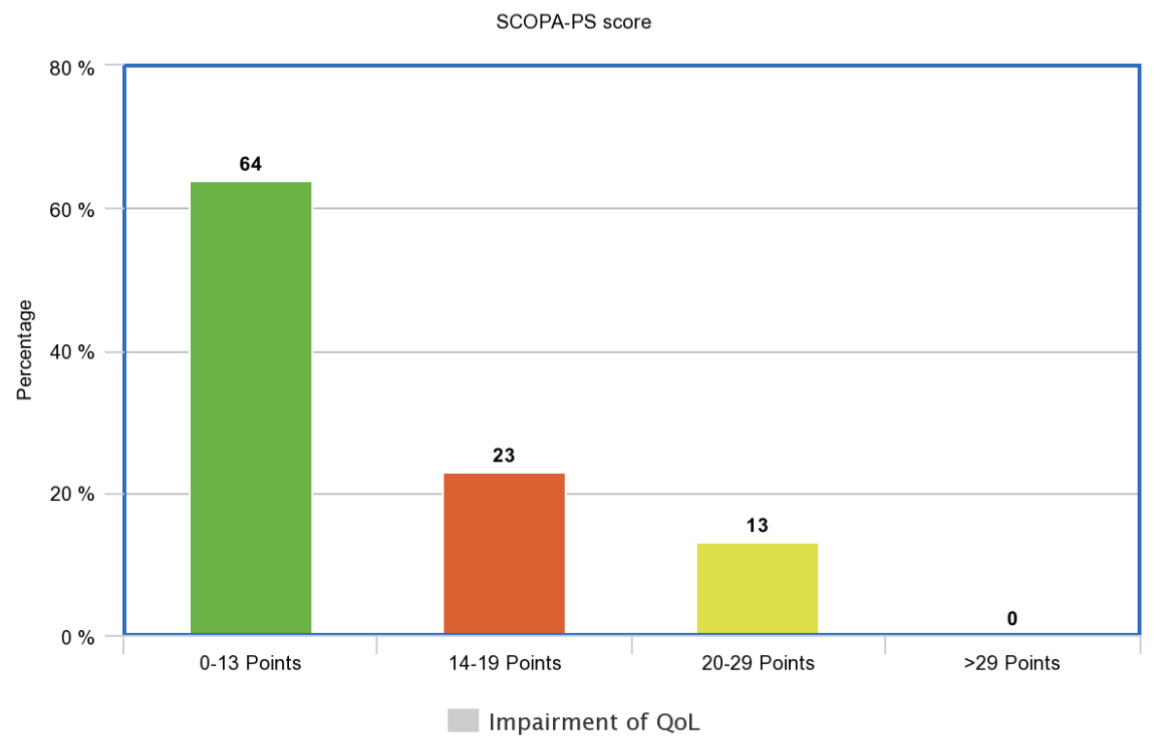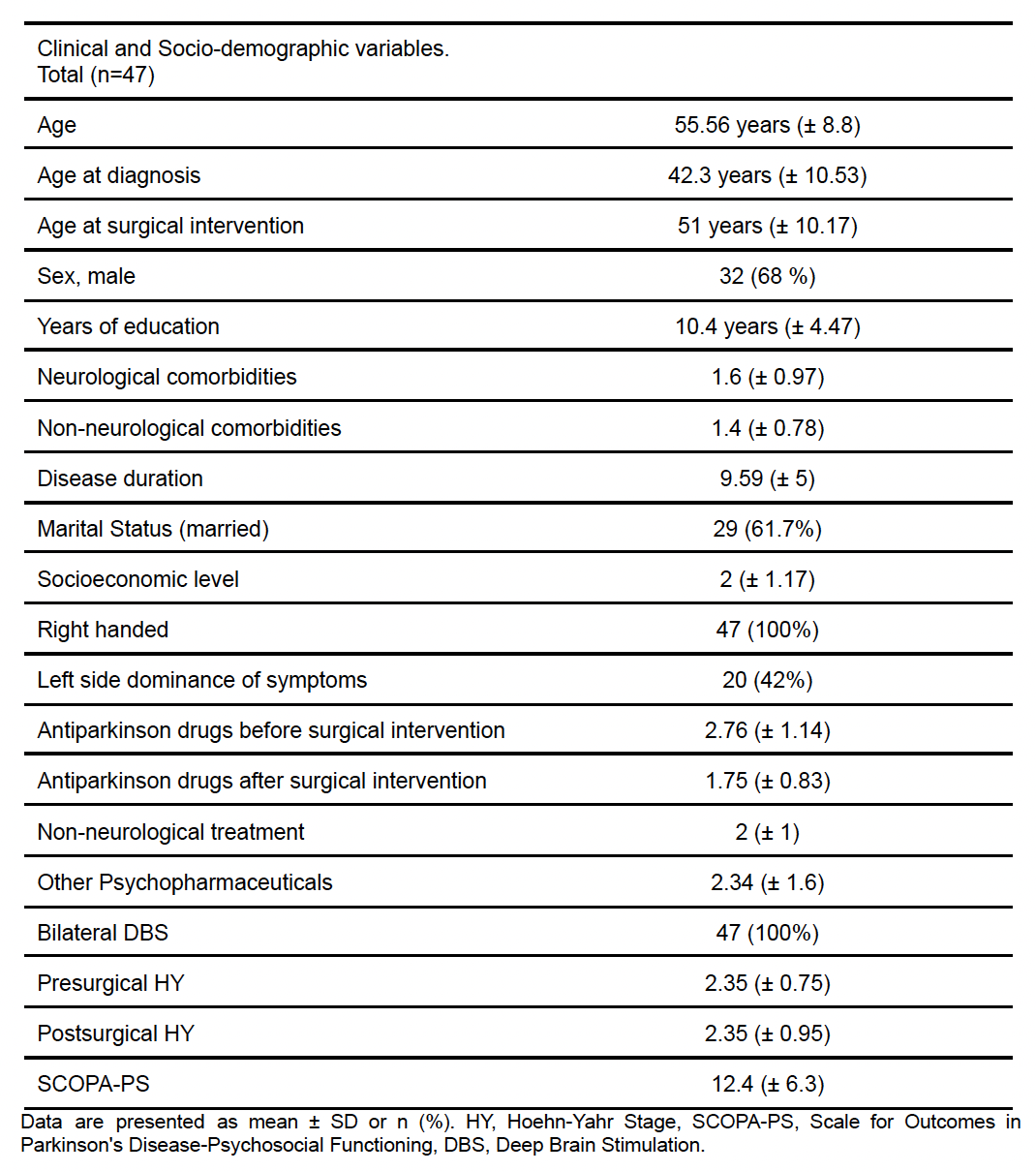 References: 1. Hughes AJ, Daniel SE, Lees AJ. The clinical features of Parkinson's disease in 100 histologically proven cases. Adv Neurol 1993; 60:595.
2. Spottke EA, Volkmann J, Lorenz D, Krack P, Smala AM, Sturm V, et al. Evaluation of healthcare utilization and health status of patients with Parkinson's disease treated with deep brain stimulation of the subthalamic nucleus. J Neurol 2002; 249: 759-66
3. Limousin P, Krack P, Pollak P, Benazzouz A, Ardouin C, Hoffmann D, et al. Electrical stimulation of the subthalamic nucleus in advanced Parkinson's disease. N Engl J Med 1998; 339: 1105-11.
4. Marinus J, Visser M, Martínez-Martín P, van Hilten JJ, Stiggelbout AM. A short psychosocial questionnaire for patients with Parkinson's disease: the SCOPA-PS. J Clin Epidemiol. 2003;56(1): 61–7.
5. Mao, Z., Ling, Z., Pan, L., Xu, X., Cui, Z., Liang, S., & Yu, X. (2019). Comparison of Efficacy of Deep Brain Stimulation of Different Targets in Parkinson's Disease: A Network Meta-Analysis. Frontiers in Aging Neuroscience, 11. https://doi.org/10.3389/fnagi.2019.00023
To cite this abstract in AMA style:
D. Sandoval-Lopez, K. Velázquez-Leonel, C. Alcalá-Romero, S. Santillán-Herrera, F. Juárez-Tovar, J. Villarreal-Serrano. Effect of Subthalamic Nucleus Stimulation (STN-DBS) on psychosocial function using the scale "SCOPA-PS" in patients with Parkinson's Disease at the National Institute of Neurology and Neurosurgery in Mexico during 2007 to 2020. [abstract].
Mov Disord.
2022; 37 (suppl 2). https://www.mdsabstracts.org/abstract/effect-of-subthalamic-nucleus-stimulation-stn-dbs-on-psychosocial-function-using-the-scale-scopa-ps-in-patients-with-parkinsons-disease-at-the-national-institute-of-neurology-and/. Accessed September 28, 2023.
« Back to 2022 International Congress
MDS Abstracts - https://www.mdsabstracts.org/abstract/effect-of-subthalamic-nucleus-stimulation-stn-dbs-on-psychosocial-function-using-the-scale-scopa-ps-in-patients-with-parkinsons-disease-at-the-national-institute-of-neurology-and/