Session Information
Session Time: 12:00pm-1:30pm
Location: Exhibit Hall located in Hall B, Level 2
Objective: To report the use of the first and easy to use self-completed Parkinson's specific pain questionnaire (King's PD Pain Quest (KPPQ), which is complementary to the King's PD Pain Scale).
Background: Pain is a poorly characterised non-motor symptom of Parkinson's disease (PD) and a determinant of quality of life (Wasner, Deuschl. 2012). Yet there are no patient completed tools to empower patients to self-declare pain related symptoms. We aim to validate the KPPQ, a questionnaire in lay English and completed by patients themselves.
Methods: In a cross-sectional, open, multicenter pilot validation study of the KPPQ we collected data from PD patients and controls without PD, matched for age and gender, both groups with otherwise unexplained pain using the KPPQ.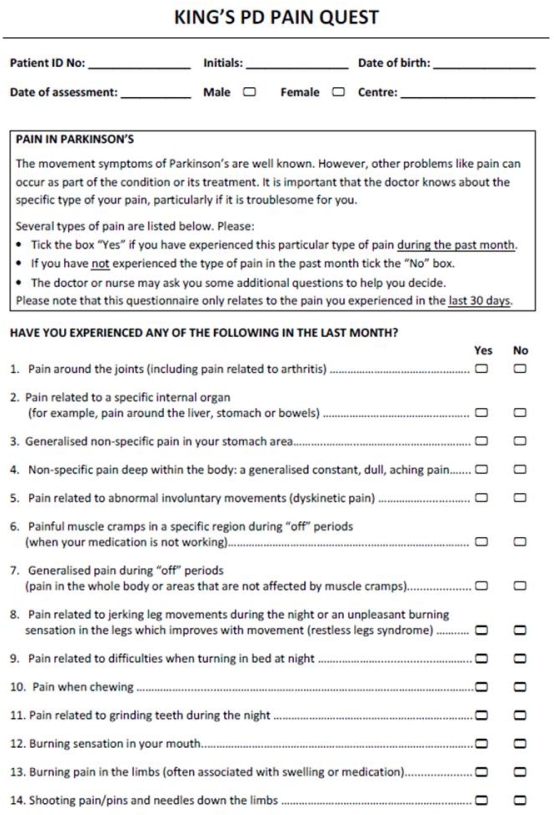 Results: 250 patients (mean age 65.0±10.5 years, duration of disease 5.3±4.9 years, median H&Y 2 [range 1-5], 58.4% male) and 150 non-PD controls (mean age 65.0±10.9, 58.7% male) were studied. Most patient-reported types of pain were musculoskeletal pain (80.7%), nocturnal (pain while turning in bed) and dystonic pain (50.0%) or radicular pain (43.2%).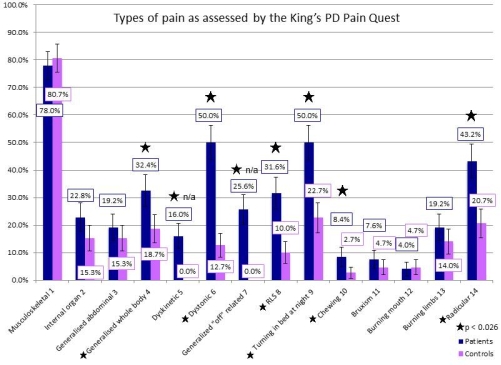 Controls reported mostly musculoskeletal pain (78.0%), followed by nocturnal pain (22.7%), radicular pain (20.7%) and generalized whole body pain (18.7%). Generalised whole body pain, dystonic, RLS related, nocturnal, radicular and oromasticatory pain were significantly more prevalent in PD compared to controls (p<0.05, chi-square test).
Conclusions: Interim results suggest that the King's PD Pain Quest, the first specific self completed tool for pain in PD and complimentary to the King's PD Pain Scale, may be useful for the self assessment of pain by patients with PD, which remains a key unmet need in PD.
Preliminary data on this project have been presented to the IPMDS 2014, the DGN 2014, the NMDPD 2014, the IPMDS 2015 and the IRPRD 2015.
To cite this abstract in AMA style:
A.M. Rizos, P. Martinez-Martin, S. Pal, R. Sophia, C. Carroll, D. Martino, C. Falup-Pecurariu, B. Kessel, T. Andrews, D. Paviour, A. Sauerbier, A. Martin, M. Parry, L. Perkins, D. Trivedi, T. Chiwera, P. Odin, A. Antonini, K. Ray Chaudhuri, On behalf of EUROPAR, The IPMDS Non-Motor PD Study Group. Empowering Parkinson's patients to declare pain: A multicenter report of the use of the first Parkinson's pain questionaire (King's PD pain quest) [abstract].
Mov Disord.
2016; 31 (suppl 2). https://www.mdsabstracts.org/abstract/empowering-parkinsons-patients-to-declare-pain-a-multicenter-report-of-the-use-of-the-first-parkinsons-pain-questionaire-kings-pd-pain-quest/. Accessed September 28, 2023.
« Back to 2016 International Congress
MDS Abstracts - https://www.mdsabstracts.org/abstract/empowering-parkinsons-patients-to-declare-pain-a-multicenter-report-of-the-use-of-the-first-parkinsons-pain-questionaire-kings-pd-pain-quest/