Session Information
Session Time: 1:45pm-3:15pm
Location: Hall 3FG
Objective: Present and discuss fasciculations in the setting of acetylcholinesterase inhibitors.
Background: Specific acetylcholinesterase (AChE) inhibitors (e.g., donepezil, rivastigmine, galantamine) are the current first-line treatment for multiple cognitive disorders such as Alzheimer's disease, Parkinson's disease dementia and Lewy-body dementia. These drugs act as non-covalent reversible inhibitors to the AChE and increase the concentration of acetylcholine in the synaptic cleft of areas of the brain important to memory and thinking.
Methods: Case Report.
Results: A 68-year-old man with Parkinson's disease complicated by dementia and diabetes reported the sudden onset of fasciculations of the muscles of the legs and abdomen that coincided with the addition of donepezil (Figure 1 _ animated). These fasciculations occurred within 3-4 days of starting Donepezil 5mg/day, and were persistent for the duration of its use (around 1 week). The fasciculations stopped within 24 hours of discontinuing Donepezil. There were no other peripheral cholinergic side effects reported (such as nausea, vomiting, dizziness, and diarrhea). He denies any prior history of fasciculations or neuropathy.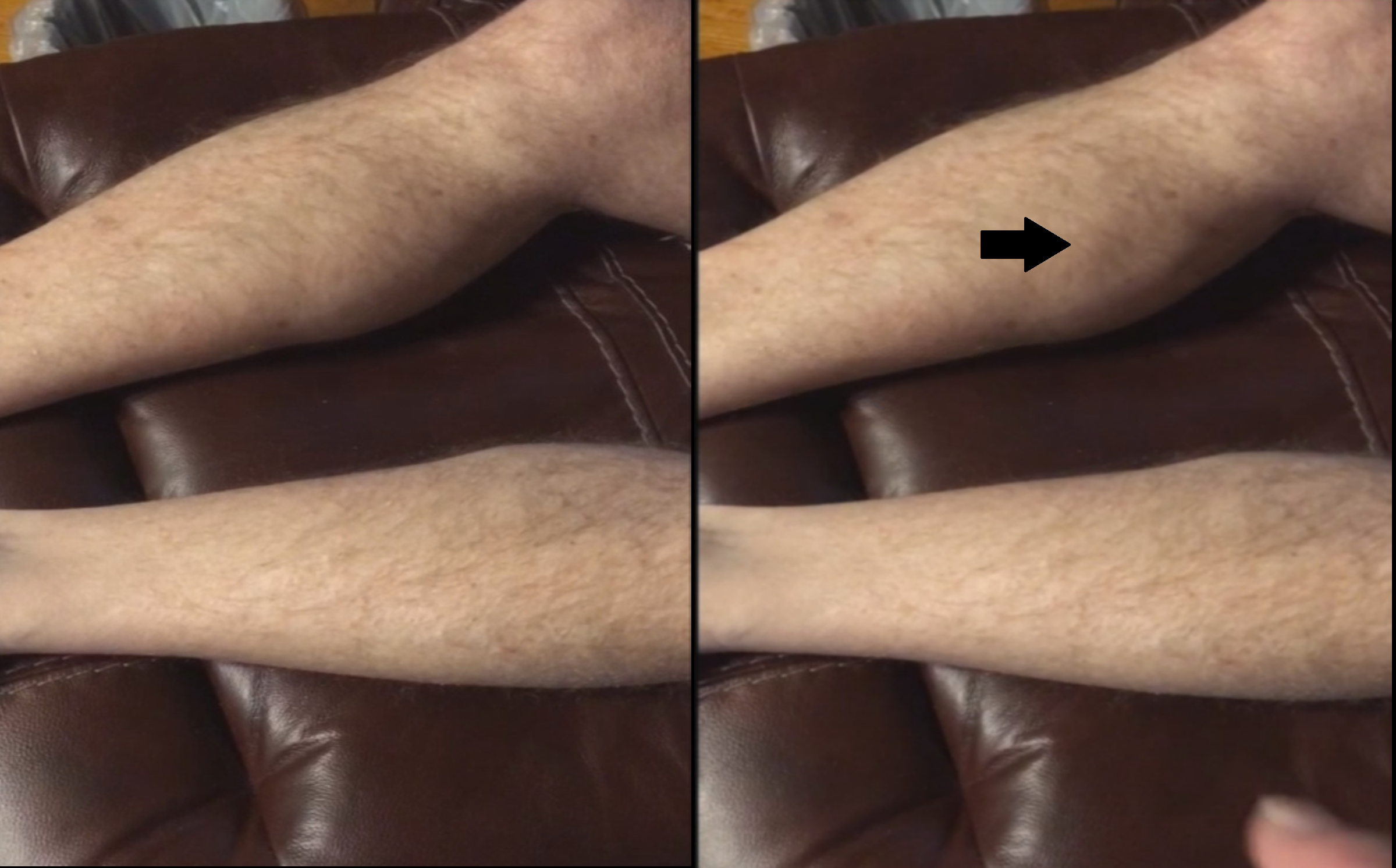 Conclusions: AChE is an efficient enzyme and rapidly degrades acetylcholine and limits its effective bioavailability in the synaptic cleft to approximately 200 microseconds. AChE inhibitors can increase acetylcholine "residence" at the neuromuscular junction, and could hypothetically induce "asynchronous excitation" of the muscles a phenomenon that would manifest as fasciculations. The incidence of fasciculations with AChE inhibitors depends on specificity and pharmacokinetic profile. Donepezil has a limited peripheral side effect profile due to its higher affinity for central nervous system acetylcholinesterases. Fasciculations have however been reported in rat studies though they were more frequent with other agents such as Tacrine (the first FDA approved agent for the treatment of Alzheimer's disease). In the prescribing information of donepezil, muscle cramps occurred in 6 of 747 patients and were directly related to the rate of titration (faster titration with higher rates of cramping). The term "muscle cramps", though is not specific and possibly could have included muscle fasciculations.This case illustrates the importance for clinical providers to be aware of this possible side effect of donepezil given the current widespread use of this agent in multiple on and off label indications.
References: – Ogura H, Kosasa T, Kuriya Y, Yamanishi Y. Central and peripheral activity of cholinesterase inhibitors as revealed by yawning and fasciculation in rats. Eur J Pharmacol. 2001;415(2–3):157–64. – FDA, cder. Aricept (donepezil hydrochloride) Label. 2012;1–14. Available from: http://www.accessdata.fda.gov/drugsatfda_docs/label/2012/020690s035,021720s008,022568s005lbl.pdf.
To cite this abstract in AMA style:
W. Deeb. Fasciculations from a cholinesterase inhibitor [abstract].
Mov Disord.
2018; 33 (suppl 2). https://www.mdsabstracts.org/abstract/fasciculations-from-a-cholinesterase-inhibitor/. Accessed November 29, 2023.
« Back to 2018 International Congress
MDS Abstracts - https://www.mdsabstracts.org/abstract/fasciculations-from-a-cholinesterase-inhibitor/