Session Information
Session Time: 12:30pm-2:00pm
Location: Exhibit Hall located in Hall B, Level 2
Objective: Below we present the case of a hemi-stereotypies symptomatic to aneurysm of the middle cerebral artery presented in mass effect on the subthalamic nucleus (SIN) whose initial manifestation was the development of this movement disorder.
Background: The dyskinesias are oro-bucco-lingual stereotyped movements that can be manifested as akathisia, dystonia, tics, tremor, or chorea, or generalized presentation hemi-syndrome. Within the etiology occurs as a result of chronic use of classic antipsychotics, tricyclic antidepressants, prokinetics, and patients with Parkinson's disease (PD) chronically treated with L-dopa. The mechanisms involved in the pathophysiology are not completely clarified, classically it is described as an imbalance between the complex of the globus pallidus (GP) and dopaminergic and GABAergic systems of the SIN.
Methods: A male patient aged 61 beginning with tics 4 months in right hemisphere, which are exacerbated by stress, progressive and decrease with sleep. Presents right hemisphere stereotyped movements that give the impression of being choreoathetoid, fast, rhythmic, continuous, without associated tremor, pull maneuver negative, with distracting maneuvers. Hemi-chorea clinical diagnosis is performed.
Results: He start regimens with risperidone, fluoxetine and alprazolam starts. He is reassessed four weeks later with slight improvement of the movement disorder, so we decided to complete diagnostic protocol with a 1.5 tesla MRI where is evident in T1 and T2 FLAIR a sack injury, under the M2 segment of the middle cerebral artery (MCA), making discrete mass effect on the GB, especially on the STN and part of caudate, with discreet collapse of lateral ventricle.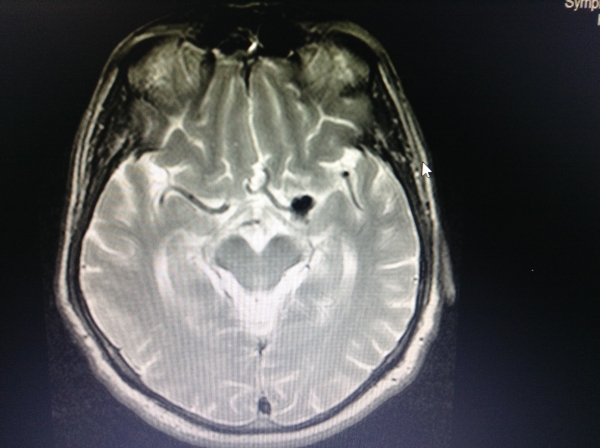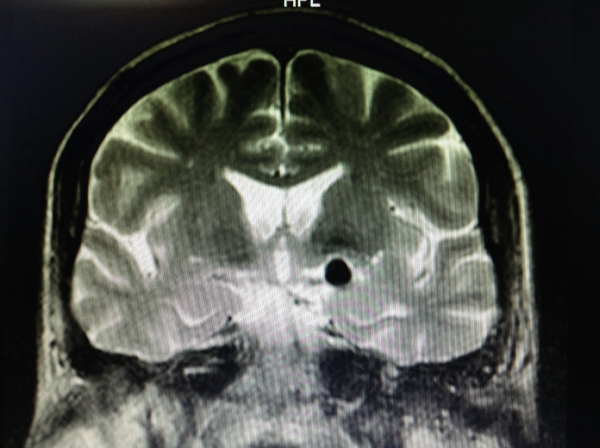 Conclusions: Symptomatic diagnosis of aneurysm of the MCA hemi-stereotypies is concluded, treatment is initiated with GABAergic agonist and is scheduled to clipping of the injury. References:
-Waln O, Jankovic J. An update on tardive diskinesia: from phenomenology to treatment. Tremor and other hiperkynetic movements 2013:1-11.
-Jenner P. Molecular mechanism of L-Dopa induced diskynesia. Nature reviews 2008; 9: 665-677.
To cite this abstract in AMA style:
D. Rebolledo, P.O. Gonzalez, Z. Rebolledo, A.G.S. Fokine Dotsenko. Hemi-stereotypies symptomatic to aneurysm: Differential diagnosis of tardive dyskinesia [abstract].
Mov Disord.
2016; 31 (suppl 2). https://www.mdsabstracts.org/abstract/hemi-stereotypies-symptomatic-to-aneurysm-differential-diagnosis-of-tardive-dyskinesia/. Accessed December 5, 2023.
« Back to 2016 International Congress
MDS Abstracts - https://www.mdsabstracts.org/abstract/hemi-stereotypies-symptomatic-to-aneurysm-differential-diagnosis-of-tardive-dyskinesia/