Objective: To present a case of a long-standing hemiparkinsonism due to cerebral lesion with a continuous response to a stable dose of levodopa with only mild dyskinesia.
Background: Hemiparkinsonism due to cerebral lesions is a well-recognized but still not too-often seen clinical entity. There are not more than 70 cases reported in the literature. The main causes were strokes, vascular anomalies, and tumors. Other causes also have been reported, but less often. The majority of the reports deal mainly with the etiology, anatomical localization of the lesion, and possible pathophysiology, while the long-term response to levodopa/dopaminergic treatment and the complications are seldom reported.
Method: Twenty-four years ago, a 38-year-old previously healthy right-handed woman presented with a recently developed tremor of the right hand and arm, and to a lesser degree right leg. The clinical features were in keeping with right-sided parkinsonism, and she started with levodopa treatment.
Results: After the first few years, the levodopa dose stabilized at 800mg/day (with 6mg/day of rotigotine) and has remained the same for the last 7 years.
The control of tremor and other symptoms was always reasonably good allowing her to continue with professional activities and family chores. However, soon after starting with the treatment, she started presenting mild dyskinesia of the right limbs with some dystonic posturing of the right hand. This has remained the same until today.
Over the years she had several MRI scans which all showed the unchanged appearance of patchy bilateral T2 and flair hyperintensities in the thalami, medial temporal lobes, posterior internal capsule, and globus pallidus (mainly on left, but also crossing the midline for a short distance on the right), extending to the midbrain and periaqueductal region (Figure 1). Brain dopamine transporter imaging showed almost absent uptake in the left striatum (Figure 2). The patient refused brain biopsy, so the diagnosis of probable low-grade glioma was made based on imaging and clinical features.
Conclusion: The case illustrates similarities and differences in clinical response (symptomatic control and complication) to levodopa between idiopathic Parkinson's disease (IDP) patients and the patients with stable structural lesions affecting basal ganglia.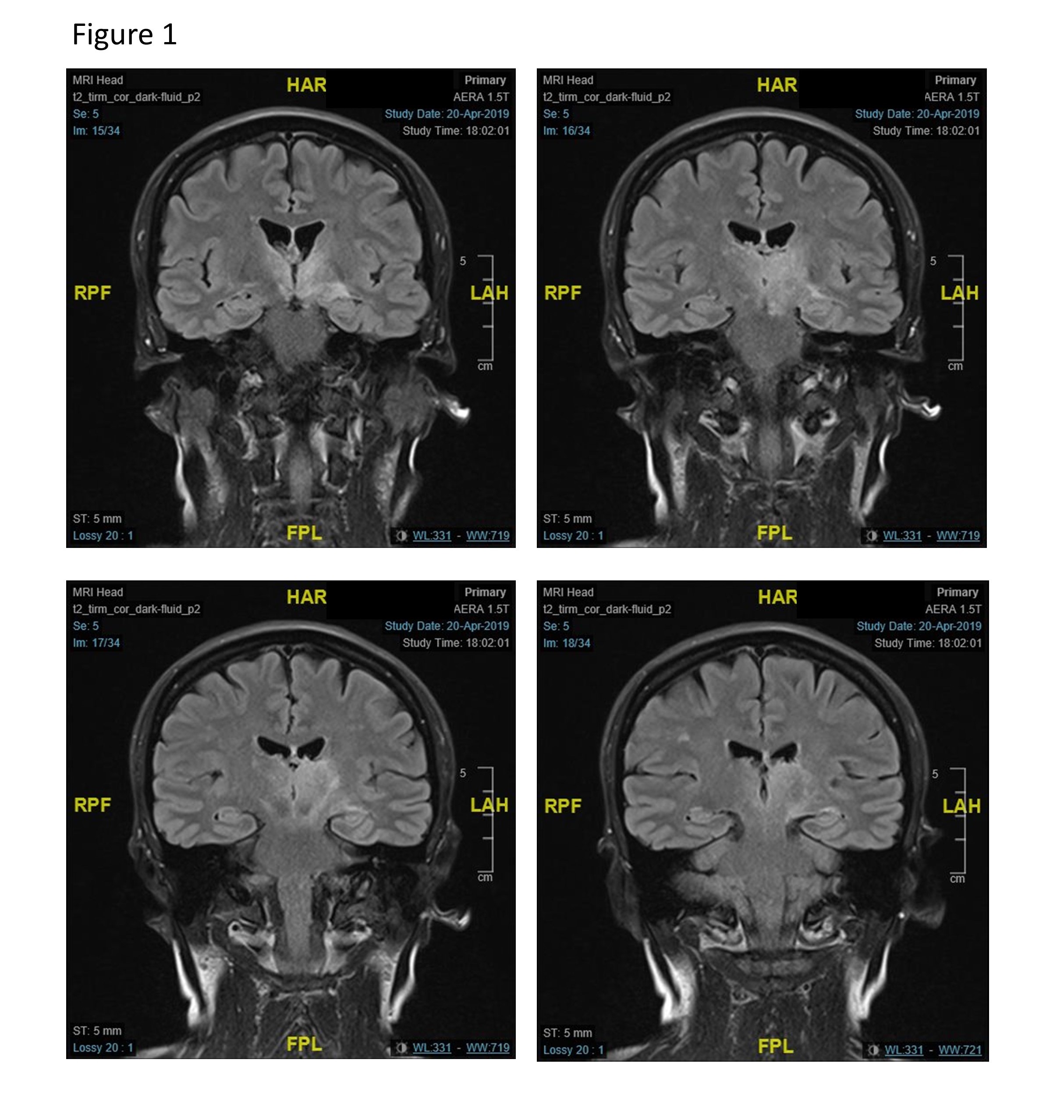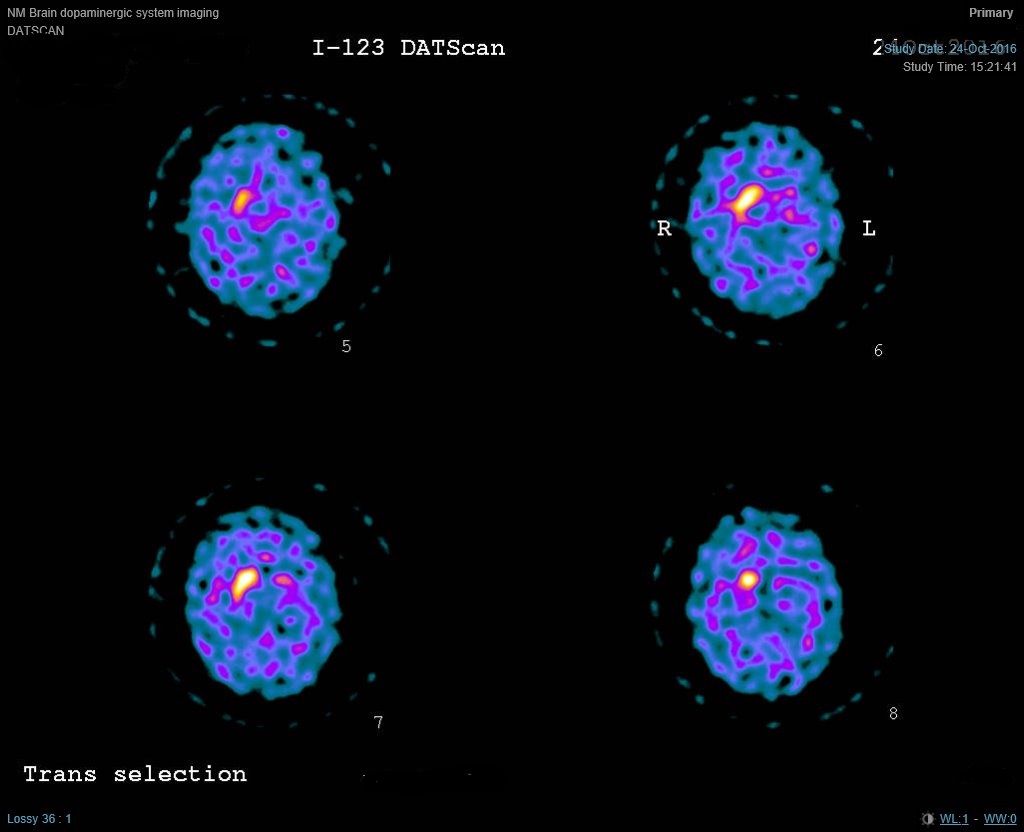 To cite this abstract in AMA style:
S. Filipović. Hemiparkinsonism Due to Diencephalic Lesion with 24 Years of Levodopa Response and Only Mild Dyskinesia [abstract].
Mov Disord.
2021; 36 (suppl 1). https://www.mdsabstracts.org/abstract/hemiparkinsonism-due-to-diencephalic-lesion-with-24-years-of-levodopa-response-and-only-mild-dyskinesia/. Accessed December 7, 2023.
« Back to MDS Virtual Congress 2021
MDS Abstracts - https://www.mdsabstracts.org/abstract/hemiparkinsonism-due-to-diencephalic-lesion-with-24-years-of-levodopa-response-and-only-mild-dyskinesia/