Objective: Naturally-occuring quantities of in vivo neuromelanin (NM) are low, and the collection of NM from tissue involves laborious extraction and isolation. Thus, in vitro models of NM biosynthesis are invaluable. This study uses N2a cells as a novel in vitro model for investigating NM biosynthesis. We hypothesize that N2a cells will produce NM when treated with L-DOPA, and the production of NM will be influenced by iron and light exposure.
Background: NM accumulates in the dopaminergic neurons of the substantia nigra and functions protectively against iron-induced oxidative stress, but when neurons degenerate and NM is released (as in Parkinson's Disease), it can exacerbate neurodegeneration. The role of NM and its connection with neurodegenerative disease warrants investigation into the factors that affect its synthesis. Excess catecholamines (i.e. dopamine), iron, and environmental light are thought to be important factors in the biosynthesis of NM.
Method: N2a cells were differentiated into dopaminergic neurons and treated with L-DOPA in conjunction with iron or an iron chelator (desferrioxamine). Cells were then incubated under a circadian light-dark cycle using either red or blue LED light. The amount of NM produced by cells was measured using fluorescent quantification. Flow cytometry was used to determine granularity of cells, and light microscopy was used to visualize pigmentation in cells.
Results: L-DOPA treatment induced NM synthesis in N2a cells. Blue light showed a trend to increase the synthesis of NM, though statistically insignificant. Iron treatment and iron chelation did not increase nor decrease NM production, though iron treatment was found to have a profound effect on cell proliferation.
Conclusion: These findings provide strong support for the hypothesis that excess catecholamines (i.e. dopamine) drive NM synthesis, as well as some support for the hypothesis that blue light is a factor that increases NM production. Overall, this study has helped elucidate some of the current questions regarding NM synthesis, and the use of this novel in vitro model will provide a basis for future studies on the properties and functions of NM.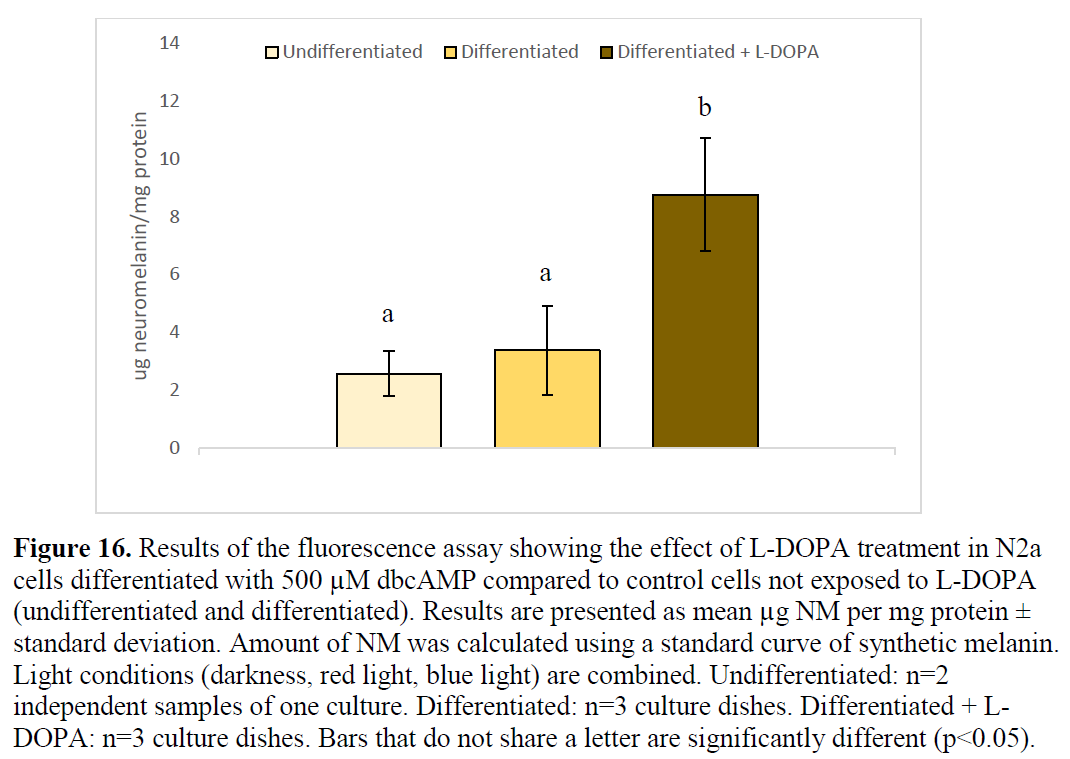 References: Fernandes, B., Matamá, T., Guimarães, D., Gomes, A., & Cavaco-Paulo, A. (2016). Fluorescent quantification of melanin. Pigment Cell & Melanoma Research, 29(6), 707–712. https://doi.org/10.1111/pcmr.12535 Romeo, S., Viaggi, C., Di Camillo, D., Willis, A. W., Lozzi, L., Rocchi, C., Capannolo, M., Aloisi, G., Vaglini, F., Maccarone, R., Caleo, M., Missale, C., Racette, B. A., Corsini, G. U., Maggio, R. (2013). Bright light exposure reduces TH-positive dopamine neurons: implications of light pollution in Parkinson's disease epidemiology. Scientific Reports, 3(1), 1395. https://doi.org/10.1038/srep01395 Sulzer, D., Bogulavsky, J., Larsen, K. E., Behr, G., Karatekin, E., Kleinman, M. H., Turro, N., Krantz, D., Edwards, R. H., Greene, L. A., Zecca, L. (2000). Neuromelanin biosynthesis is driven by excess cytosolic catecholamines not accumulated by synaptic vesicles. Proceedings of the National Academy of Sciences of the United States of America, 97(22), 11869–11874. https://doi.org/10.1073/pnas.97.22.11869
To cite this abstract in AMA style:
S. Martin, V. Jones, J. Taylor, S. Lane, J. Ehlting, A. Helton, P. Walter. L-DOPA treatment in N2a cells stimulates neuromelanin biosynthesis: Using a novel in vitro model to examine the effect of iron and light on neuromelanin production [abstract].
Mov Disord.
2020; 35 (suppl 1). https://www.mdsabstracts.org/abstract/l-dopa-treatment-in-n2a-cells-stimulates-neuromelanin-biosynthesis-using-a-novel-in-vitro-model-to-examine-the-effect-of-iron-and-light-on-neuromelanin-production/. Accessed December 7, 2023.
« Back to MDS Virtual Congress 2020
MDS Abstracts - https://www.mdsabstracts.org/abstract/l-dopa-treatment-in-n2a-cells-stimulates-neuromelanin-biosynthesis-using-a-novel-in-vitro-model-to-examine-the-effect-of-iron-and-light-on-neuromelanin-production/