Objective: The goal of this project was to evaluate the association between self-reported loneliness, quality of life, and patient-reported symptoms of Parkinson's disease (PD) severity.
Background: Social isolation has been shown to be a risk factor for worsened health and increased mortality, depression and cognitive decline in aging populations in general. Common symptoms of Parkinson disease, such as apathy, depression, anxiety, fatigue, tremor, drooling, incontinence and immobility, can all contribute to social withdrawal. Loneliness, though subjective, is one way to measure social isolation.
Method: Baseline data were used for a cross-sectional analysis of individuals reporting a diagnosis of idiopathic PD (N=1746) from the CAM Care PD study. All regression models adjusted for age, gender, years since diagnosis, and income. PROMIS was used for quality of life, PRO-PD for PD severity.
Results: The individual questions on the PROMIS Global related to social health worsen PRO-PD scores. Individuals who report they feel lonely (354) have higher PRO-PD scores, even higher than scores for smoking (259) and having a lot of stress (195). In contrast, exercising 7 days per week was as beneficial (-351) for a PD patient as feeling lonely was detrimental. Having a lot of friends was also beneficial (-177).
Conclusion: These data do not speak to causation. However, the results further support the need to keep people from becoming socially isolated and lonely as they age. By recognizing loneliness as a risk factor for worsened PD severity, health care providers can become more proactive in preventing social isolation. Counseling about the need to stay socially connected from time of diagnosis is essential. Group exercises and support groups that allow inter-patient connection would be beneficial. Referral to a religious or spiritual group, internet support group, or even virtual connection may be helpful as patients become more isolated or in remote areas.
AIHM San Diego; October 2019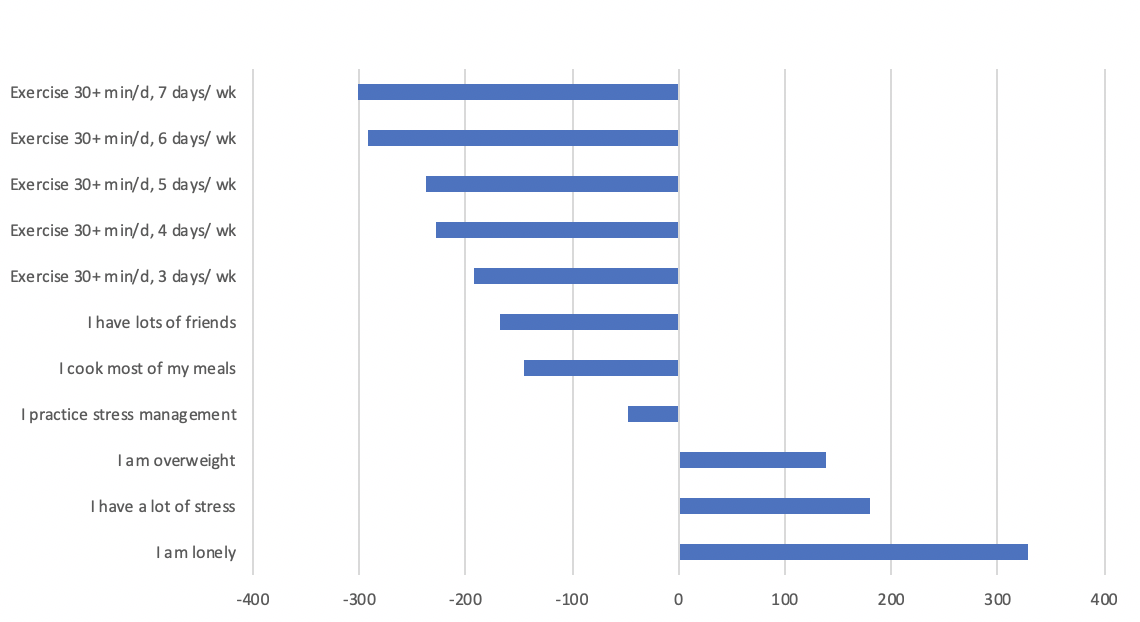 References: 1. Social isolation, loneliness and health in old age: a scoping review.Courtin E, Knapp M. Health Soc Care Community. 2017 May;25(3):799-812. Epub 2015 Dec 28. Review. 2. Loneliness and social isolation as risk factors for mortality: a meta-analytic review. Holt-Lunstad J, Smith TB, Baker M, Harris T, Stephenson D.Perspect Psychol Sci. 2015 Mar;10(2):227-37. Review. 3. Health related quality of life in Parkinson's disease: a prospective longitudinal study. Karlsen KH, Tandberg E, Arsland D, Larsen JP.J Neurol Neurosurg Psychiatry. 2000 Nov;69(5):584-9.
To cite this abstract in AMA style:
I. Subramanian, L. Mischley, J. Farahnik. Loneliness/Social Isolation as a Risk Factor for Worsened Parkinson Disease Severity [abstract].
Mov Disord.
2020; 35 (suppl 1). https://www.mdsabstracts.org/abstract/loneliness-social-isolation-as-a-risk-factor-for-worsened-parkinson-disease-severity/. Accessed December 1, 2023.
« Back to MDS Virtual Congress 2020
MDS Abstracts - https://www.mdsabstracts.org/abstract/loneliness-social-isolation-as-a-risk-factor-for-worsened-parkinson-disease-severity/