Session Information
Session Time: 1:45pm-3:15pm
Location: Hall 3FG
Objective: To explore the difference in muscle activation during a postural versus movement control task in patients with focal dystonia.
Background: Co-contraction of agonist and antagonist muscles during action is characteristic of dystonia. It has been proposed that there are separate mechanisms underlying normal motor control of postural and movement tasks1.
Methods: Subjects placed the dominant upper limb in a manipulandum and performed wrist extension against 0.1N, 0.2N, 0.3N, 0.4N and 0.5N forces, followed by maintenance of a target position against the same force. Surface electromyography (sEMG) recordings of wrist extensors/flexors (WE/WF), biceps/triceps (EE/EF), and deltoid/pectoralis (D/P) muscles were made during the motor tasks. Activity in each muscle during the movement and postural phase were measured using the integral of sEMG. The degree of co-contraction was expressed as the ratio of EMG activity in the WE/WF (the agonist/antagonist ratio; AAR) and compared during the movement and postural tasks. The degree of co-activation of the elbow and shoulder synergists was also analysed. We used Mann-Whitney U test to compare the AAR between normal and dystonia subjects, and the Wilcoxon-signed rank test to compare between the postural and movement tasks within groups. Statistical analysis was performed using SPSS version 23.
Results: There were 21 controls and 11 patients with either writer's cramp (n = 5) or cervical dystonia (n=6). The controls were younger (37.5+/-9.3 and 54.5+/-15.4 years, p<0.001). Surprisingly, the dystonia group had greater AARs when compared with controls, indicating less co-contraction, during both the movement and postural tasks (movement: 2.79+/-2.82 vs 1.96+/-3.01, p<0.001, posture: 3.34+/-4.24 vs 2.07+/-4.34, p<0.001). In controls, the WE/WF AAR was larger during posture than movement (3.02+/-1.64 vs 1.69+/-2.60, p=0.001) whereas in the dystonia group, there was no difference (2.74+/-4.36 vs 2.52+/-3.42, p=0.057). In controls, the D/P EMG ratio was larger during movement than posture (0.40+/-0.51, 0.00+/-0.00, p<0.001). In the dystonia group there was no significant difference in the synergist EMG ratios.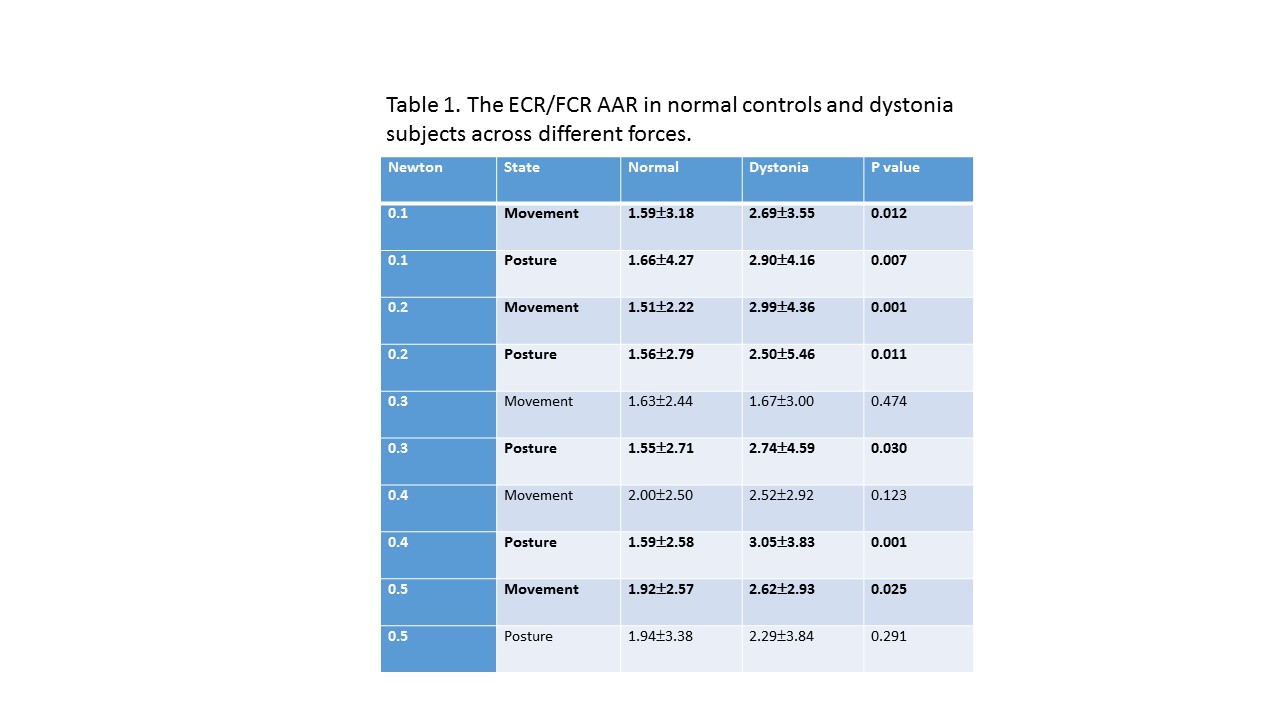 Conclusions: Patients with dystonia do not necessarily develop abnormal co-contraction in tasks that does not trigger dystonia. However they may lack a differentiation in co-contraction during movement versus postural tasks. Our findings suggest further exploration of differences in movement versus postural control is warranted.
References: 1.Kurtzer, I.; Herter, T. M.; Scott, S. H., Random change in cortical load representation suggests distinct control of posture and movement. Nat Neurosci 2005, 8 (4), 498-504.
To cite this abstract in AMA style:
F. Chang, S. Babu, S. Kim, N. Mahant, O. Vucic, V. Fung. Movement and postural control in focal dystonia subjects measured using surface electromyography [abstract].
Mov Disord.
2018; 33 (suppl 2). https://www.mdsabstracts.org/abstract/movement-and-postural-control-in-focal-dystonia-subjects-measured-using-surface-electromyography/. Accessed November 29, 2023.
« Back to 2018 International Congress
MDS Abstracts - https://www.mdsabstracts.org/abstract/movement-and-postural-control-in-focal-dystonia-subjects-measured-using-surface-electromyography/