Session Information
Session Time: 1:15pm-2:45pm
Location: Les Muses Terrace, Level 3
Objective: We team neuron, focused on analyzing progressive degeneration of neural structural connectivity of the tract from Brodmann area 4, part precentral gyrus to facial motor nuclei which is responsible for stimulation of facial muscle movement.
Background: Parkinson disease (PD) is a movement disorder with classic motor signs consisting of bradykinesia, rigidity and tremor. Loss of asymmetrical facial expression and facial emotional response that is "Hemi hypomimia" comes as manifestation of bradykinesia. Hemi hypomimia is rare sign in early stage of PD. The motor symptoms of PD are mostly due to progressive degeneration of dopaminergic neurons. Asymmetric motor symptoms are linked to long term disease progression.
Method: Our study aimed on identification and comparison of existence of the tract in terms of number and volume of fibers in control, PD and progressive stages of PD with 120 DTI data sets (age range- 20 to 80 yrs) by Diffusion Imaging Tractography.
Results: Results exhibit rigid detoriation of the tract in females than males. Approximately 90% of the tract is detoriated in first two years of PD in females. The results obtained are symmetrical with equal levels of detoriation on both right and left hemispheric tract.
Conclusion: In males neurostructural connectivity related to Hypomimia is not noticeably effected but females show the detoriation in the early stages correlating with the clinical research. Aberrations are symmetrical which does not coincide with the clinical symptoms such as hemihypomimia.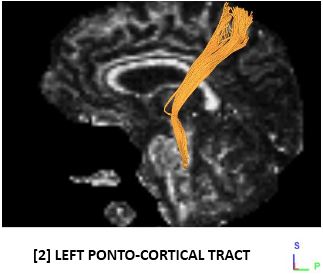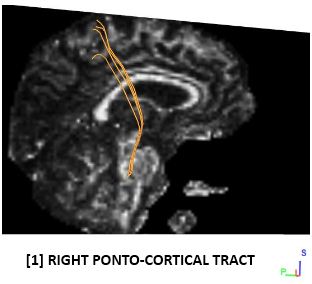 References: [1] D.Crosiers, E.Marechal, Y.Van Ael, P.Cras;Left-sided hemihypomimia in Parkinson's disease,Acta Neurol. Belg.,2011 Sep;111(3):225-7 [2] R.S.Van Gelder, L.Van Gelder;FACIAL EXPRESSION AND SPEECH NEUROANATOMICAL CONSIDERATIONS, international Journal of Psychology 25 (1990) 141-155 North-Holland [3] S.Ozekmekci, G.Benbir, F.Y.Ozdogan, S.Ertan, M.E.Kiziltan; Hemihypomimia, a rare persistent sign in Parkinson's disease, J Neurol (2007) 254:347–350 DOI 10.1007/s00415-006-0372-z.
To cite this abstract in AMA style:
P. Singru, V. Vadiyala, E. Ganesh, V. Vinodhanand. Ponto-cortical aberrations:Neural correlations for Hypomimia in PD [abstract].
Mov Disord.
2019; 34 (suppl 2). https://www.mdsabstracts.org/abstract/ponto-cortical-aberrationsneural-correlations-for-hypomimia-in-pd/. Accessed December 2, 2023.
« Back to 2019 International Congress
MDS Abstracts - https://www.mdsabstracts.org/abstract/ponto-cortical-aberrationsneural-correlations-for-hypomimia-in-pd/