Session Information
Session Time: 1:45pm-3:15pm
Location: Exhibit Hall C
Objective: To determine the frequency of Non- motor symptoms (NMS) burden using the non-motor symptoms questionnaire (NMSQuest).
Background: Over the years, motor manifestations were more associated with Parkinson's disease (PD) with little or no mention of non-motor components. There is emerging evidence that non-motor symptoms (NMS) present earlier and they are associated with quality of life of individuals. The NMS burden poses a greater care challenge to both the health workers and the caregivers.
Methods: This is a cross sectional study of PD patients on NMS longitudinal Natural Histories study. Specifically, the data of 61 consecutive PD patients that completed NMS questionnaire were analyzed using SPSS software.
Results: Of the 61 subjects most were males 44 (72.1%) while 17 (27.9%) were females. The mean age of respondents were 68.3 (9.6) and ranged from 39-82 years.. The mean NMSQuest score among respondents were 12.8 (5.2). Most of the respondents had NMS burden 2(55.7%) followed by NMS burden 3(31.2%) and NMS burden 4(13.1%). A higher proportion of respondents with HY stage 1 had disease burden NMS 2 (71.4%) compared to those with NMS 3 (28.6%) and none had NMS 4. Those with H and Y stage 2 had a higher proportion with disease burden NMS 2 (78.4%) compared to those with NMS 3 (13.5%), and NMS 4 (8.1). For those with H and Y stage 3, a higher proportion had disease burden with NMS 3 (66.7%) compared to NMS 4 (33.3%), and none had NMS 2. All respondents with HY stage 4 had NMS 3. This difference was statistically significant with Chi square=32.579 and p value <0.001.
Fig 1: Distribution of non-motor burden and motor stage in Parkinson disease
Fig 2: Mean NMSQuest score by HY stage of disease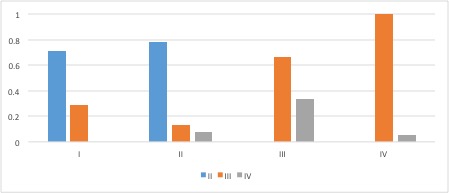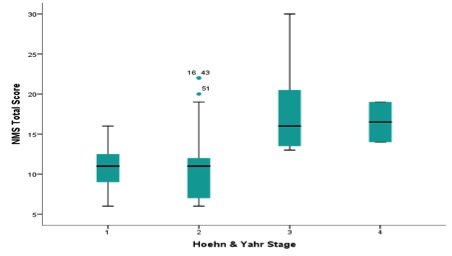 Conclusions: This shows that NMSQuest could be a useful tool to screen for NMS burden among PD patients especially in resource poor countries and this can be used to tailor specific treatment for individual patient during clinic visits.
References:
The burden of non-motor symptoms in Parkinson's disease using a self-completed non-motor questionnaire: A simple grading system

Chaudhuri, K. Ray et al.

Parkinsonism & Related Disorders , Volume 21 , Issue 3 , 287 – 291
To cite this abstract in AMA style:
T. Farombi, A. Ogunniyi. Profiling the Non Motor Symptoms burden in Parkinson's disease patients in Nigeria [abstract].
Mov Disord.
2017; 32 (suppl 2). https://www.mdsabstracts.org/abstract/profiling-the-non-motor-symptoms-burden-in-parkinsons-disease-patients-in-nigeria/. Accessed December 2, 2023.
« Back to 2017 International Congress
MDS Abstracts - https://www.mdsabstracts.org/abstract/profiling-the-non-motor-symptoms-burden-in-parkinsons-disease-patients-in-nigeria/