Session Information
Session Time: 1:45pm-3:15pm
Location: Hall 3FG
Objective: Parkinson's disease (PD) is a debilitating neurodegenerative disorder characterized by loss of dopamine neurons in the substantia nigra. We measured neuroinflammatory marker fractalkine in the serum of PD, Progressive supranuclear palsy (PSP) and Multiple system atrophy (MSA) patients to evaluate its role as a possible biomarker.
Background: PD results in various movement disorders. No accurate biomarker is available till date which can aid in the diagnosis and prognosis of neurodegenerative Parkinsonism. On the other hand, fractalkine (CX3CL1), belongs to CX3C chemokine family, has an important role in modulating inflammation in the CNS. There is growing evidence showing inflammation could be one of the mediators of neurodegeneration. In the present study we measured the serum levels of fractalkine in a cohort of Parkinson's disease patients in Northern India.
Methods: UK PDS Brain Bank criteria for the diagnosis of PD were applied to select the patients. For disease controls blood samples were collected from patients with PSP and MSA. The diagnosis of PSP and MSA was carried out according to the criteria of NINDS-SPSP. All these patients were referred to our tertiary care hospital from primary and secondary care hospitals and diagnosed for the first time with respective ailments. 17 PD, 7 PSP and 6 MSA patients with definite diagnosis are included in the study. 22 age and sex matched healthy controls were also included in the study. The patients and control subjects gave written informed consent. All procedures performed in studies involving human participants were in accordance with the ethical standards of the 1964 Helsinki declaration and its later amendments or comparable ethical standards. This study was approved by Institutional ethics committee. Blood collected in a serum separator tube was kept for 30 min. Serum from blood after clotting, was separated out and collected in a clean tube and again centrifuged for 10 min at 3000 rpm and frozen at −80 °C until ELISA analysis was performed. Fractalkine was measured by Fine test Elisa Kit as per the guidelines provided by the manufacturer.
Results: Fractalkine levels were increased in PD, PSP and MSA (P < 0.001) with respect to control subjects.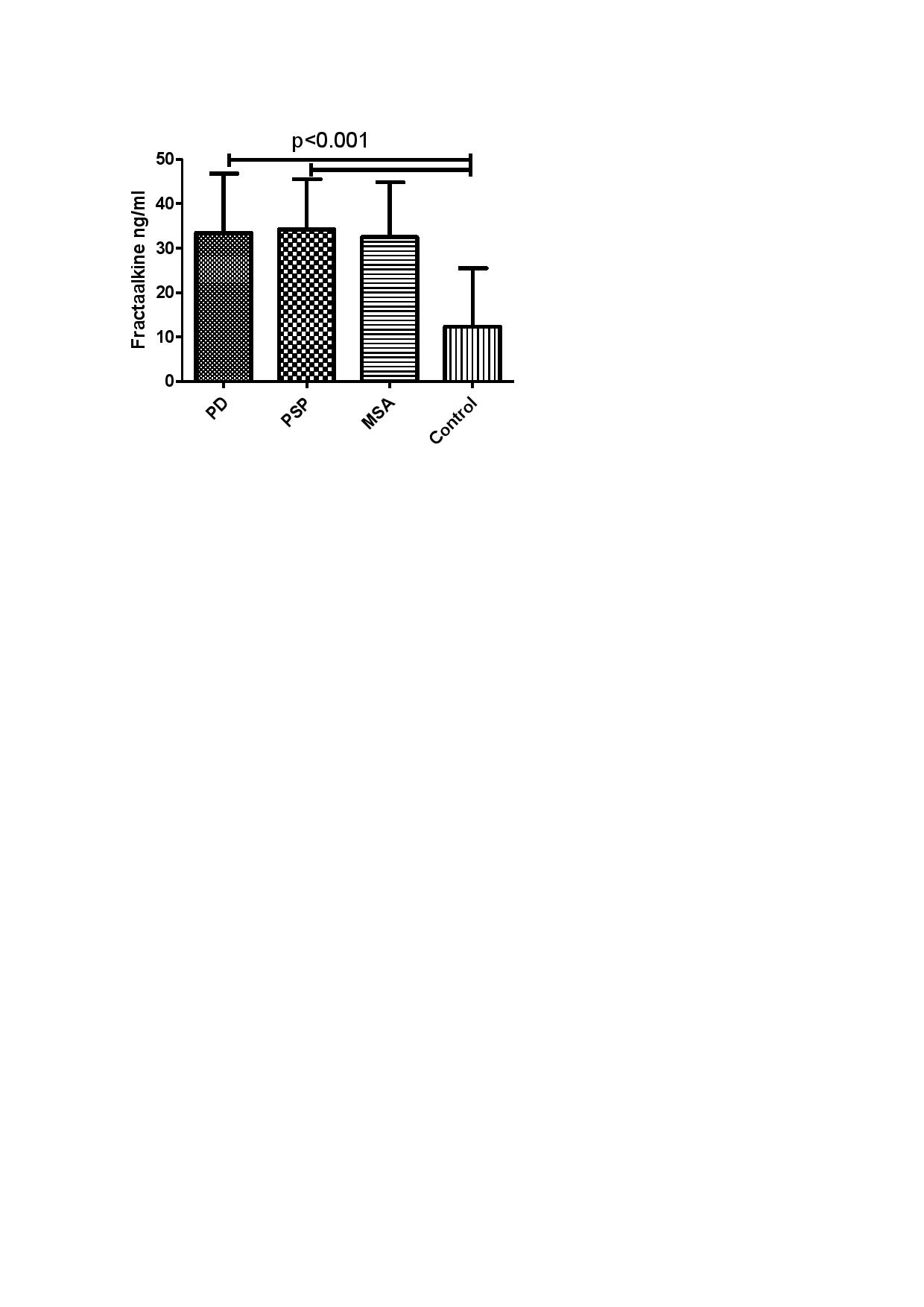 Conclusions: Study indicates that neuroinflammation could be a key underlying factor in Parkinson's disease. These data further points to fractalkine signalling as a potential therapeutic target for neuroprotective therapies in PD.
To cite this abstract in AMA style:
G. Nagesh Babu, M. Gupta, V. Paliwal. Serum fractalkine levels in Parkinson's disease: Evidence for neuroinflammation [abstract].
Mov Disord.
2018; 33 (suppl 2). https://www.mdsabstracts.org/abstract/serum-fractalkine-levels-in-parkinsons-disease-evidence-for-neuroinflammation/. Accessed December 2, 2023.
« Back to 2018 International Congress
MDS Abstracts - https://www.mdsabstracts.org/abstract/serum-fractalkine-levels-in-parkinsons-disease-evidence-for-neuroinflammation/