Objective: We report a case of concomitant Holmes' tremor (HT) and hemiparkinsonism (HP) attributable to a single structural lesion with robust clinical response to levodopa.
Background: HT is a low frequency (<4.5 Hz) tremor at rest that persists or increases with postural change and goal-directed action. It's believed to arise most commonly from structural lesions that disrupt the nigrostriatal pathway in conjunction with either the cerebello-thalamo-cortical or dentato-rubro-olivary pathway [1]. "Pure" vascular HP stems from injury to the substantia nigra and/or nigrostriatal pathway, causing contralateral rest tremor, bradykinesia, and rigidity [3]. We found only one prior case report of both HT and HP occurring in combination from a single structural lesion resulting in near absence of dopamine transporter binding in the ipsilateral striatum on DaT-SPECT imaging [3]. However, high doses of levodopa provided no clinical improvement despite prior reports of efficacy in HT [4].
Method: Case Report.
Results: A 48-year-old woman presented with insidious onset of tremor and slowness of movement. She had a known hemorrhagic midbrain cavernous malformation discovered 20 years prior in the setting of acute onset of binocular diplopia and transient left sided hemiparesis. On exam, there was isolated left facial masking, severe left arm and leg bradykinesia and rigidity, and marked reductions in stride length and arm swing when ambulating. There was a coarse, irregular 3 Hz tremor of the left arm present at rest, persisting with postural change, and increasing with goal-directed action. Brain MRI demonstrated a 2 cm cavernous malformation within the right substantia nigra with extension into the red nucleus and crus cerebri [figure 1]. She was examined following ingestion of 100 mg of levodopa. She developed dystonic dyskinesias of the left arm and leg thirty minutes after ingestion followed by resolution of HT and profound improvement of HP at sixty minutes. Symptoms gradually returned three hours after ingestion.
Conclusion: This represents the first reported case of concurrent HT and HP due to a single structural lesion with robust symptomatic response to levodopa, presumed secondary to disruption of both the nigrostriatal and dentato-rubro-olivary pathways. It is unclear what drives responsiveness to dopaminergic therapy, which can at times be robust and thus remains the first-line therapeutic approach.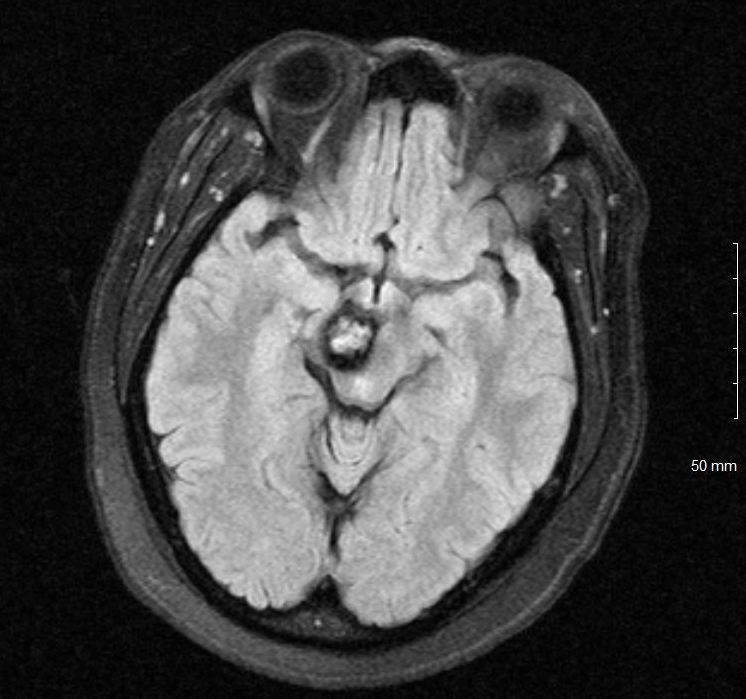 References: 1. Deuschl G, Wilms H, Krack P, Würker M, Heiss WD (1999) Function of the cerebellum in Parkinsonian rest tremor and Holmes' tremor. Ann Neurol 46:126–128 2. Vizcarra, JA, Lang AE, Seth KD, Espay, AJ (2015) Vascular Parkinsonism: deconstructing a syndrome. Mov Disord 30(7):886-94 3. Paviour DC, Jäger HR, Wilkinson L, Jahanshahi M, Lees AJ (2006) Holmes tremor: application of modern neuroimaging technique. Mov Disord 21:2260–2262 4. Raina GB, Cersosimo MG, Folgar SS, Giugni JC, Calandra C, Paviolo JP et al (2016) Holmes tremor: Clinical description, lesion localization, and treatment in a series of 29 cases. Neurology 86:931–938
To cite this abstract in AMA style:
A. Dessy, P. Drummond. Simultaneous, levodopa-responsive Holmes' tremor and hemiparkinsonism due to midbrain cavernous malformation [abstract].
Mov Disord.
2020; 35 (suppl 1). https://www.mdsabstracts.org/abstract/simultaneous-levodopa-responsive-holmes-tremor-and-hemiparkinsonism-due-to-midbrain-cavernous-malformation/. Accessed November 29, 2023.
« Back to MDS Virtual Congress 2020
MDS Abstracts - https://www.mdsabstracts.org/abstract/simultaneous-levodopa-responsive-holmes-tremor-and-hemiparkinsonism-due-to-midbrain-cavernous-malformation/