Objective: We report a rare case of secondary progressive multiple sclerosis with one of the manifestation was spinal myoclonus.
Background: Myoclonus is a sudden and brief involuntary muscle jerk due to muscle contraction (positive myoclonus) or inhibitory of muscle (negative myoclonus). Spinal myoclonus is a rare symptom. Most patients with propriospinal myoclonus have no clear aetiology, but still need to be investigated especially in young patients.
Method: 20 years old woman come to outpatient clinic with jerky movements of the upper trunk since 1 month ago. This movement appeared when the patient was active, worsened if startled and anxious, and disappeared when the patient sleeps. The patient also complained of weakness in the both legs since 2 months ago and also difficulty to swallow and sometimes got choked. Patient also complained of chronic progressive blurred vision since 10 months ago.
1 year before involuntary movement appeared, she was hospitalized for difficulty of speaking and swallowing, facial nerve palsy, and hypesthesia at wrist and leg. She was diagnosed and treated for multiple sclerosis and resolved completely, but had relapse 1 month later and followed by complete remission. Neurological examination showed weakness in the both legs and hyperalgesia at spinal thoracalis level T10-T11. We performed head MRI with contrast with normal result. Visual Evoked Potential examination showed bilateral optic nerve neuropathy. Whole spine MRI with contrast showed no space occupying lesion in the spinal canal or pathological lesions in the spinal cord.
Patient was treated as secondary progressive multiple sclerosis with plasmapheresis, steroid, and azathioprine. Patient was not responded with 2 mg clonazepam, as the dose was tappered up until 6 mg clonazepam patient showed improvement of involuntary movement after 1 month.
Results: The pathopysiology of spinal myoclonus induced by multiple sclerosis in still speculative. One of the theory is multiple sclerosis may cause demyelinating plaques at root exit zones involving contiguous spinal segments. Diagnostic can be difficult as patient showed involuntary movement in chronic phase. Treatment of underlying pathophysiological process is very important beside of symptomatic treatment for spinal myoclonus.
Conclusion: Spinal myoclonus can be one of manifestation of secondary progressive multiple sclerosis. Treatment can be challenging for clinician and hollistic approach is needed.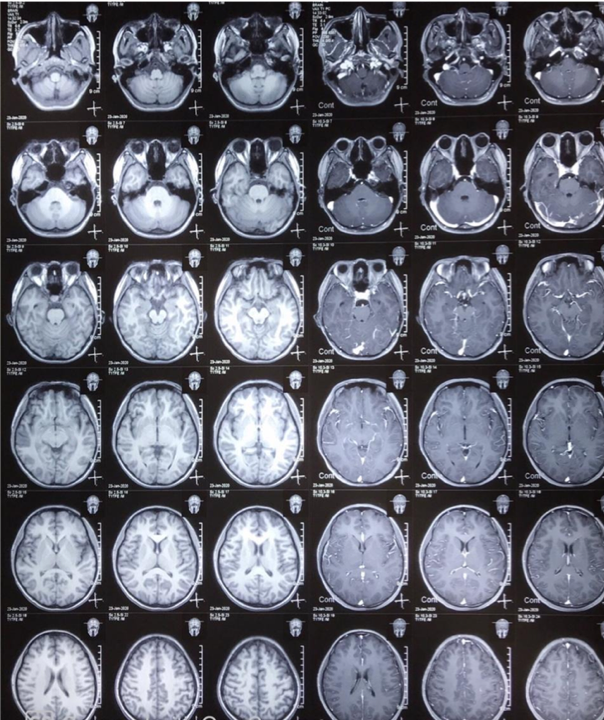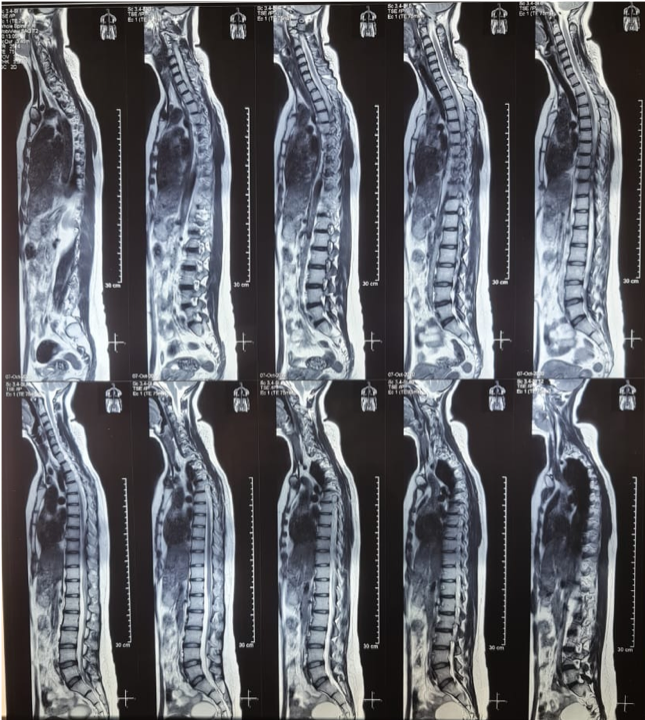 References: Alroughani RA, Ahmed SF, Khan RA. Spinal segmental myoclonus as an unusual presentation of multiple sclerosis. BMC Neurol. 2015; 15: 15. Kapoor R, Brown P, Thompson PD, Miller DH. Propriospinal myoclonus in multiple sclerosis. J Neurol Neurosurg Psychiatry. 1992 Nov; 55(11): 1086–1088 Caviness JN. Treatment of Myoclonus. Neurotherapeutics. 2014 Jan; 11(1): 188–200.
To cite this abstract in AMA style:
N. Raisa, B. Munir, S. Rianawati. Spinal myoclonus in secondary progressive multiple sclerosis [abstract].
Mov Disord.
2021; 36 (suppl 1). https://www.mdsabstracts.org/abstract/spinal-myoclonus-in-secondary-progressive-multiple-sclerosis/. Accessed December 5, 2023.
« Back to MDS Virtual Congress 2021
MDS Abstracts - https://www.mdsabstracts.org/abstract/spinal-myoclonus-in-secondary-progressive-multiple-sclerosis/