Session Information
Session Time: 12:00pm-1:30pm
Location: Exhibit Hall located in Hall B, Level 2
Objective: To provide insight into the nature of cognitive deterioration and Parkinson's disease dementia (PDD) and to validate a novel cognitive score (also submitted for this conference) with [18F]fluorodeoxyglucose (FDG)PET-imaging in patients suffering from Parkinson's disease (PD).
Background: For the early and differential diagnosis of PDD, sensitive assessments with high diagnostic accuracy are mandatory especially in early stages in which patients may benefit best from therapy. FDG-PET is an accepted and widely used method to visualize changes in brain metabolism (rCBM) associated with cognitive deficits in PD.
Methods: Statistical parametric analysis was performed in 29 subjects (control=7, PD=12, PDD=10) who received FDG-PET. FDG-uptake was normalized to the mean uptake in the primary somatosensory cortex. First, based on the new score, patients were assigned to one of four groups specified by the level of cognitive impairment (n=5, 5, 5 and 7) and rCBM was assessed. Secondly, voxelwise correlation analysis of rCBM with the cognitive score, as well as the Minimental State Examination (MMSE) and the Unified Parkinson's disease rating Scale (UPDRSIII) were performed, including leave-one-out analysis. Specifically, we used a voxel-level threshold of p<0.001 (corresponding to r=0.66) and analyzed positive/negative correlation pattern separately.
Results: rCBM reduction was observed especially in the parieto-occipital and temporal cortex similar to the previously published "PD-related pattern"1. Comparing the cognitive groups according to the new score, a systematic expansion pattern of hypometabolic areas was detected, with larger regions found in patients with more advanced cognitive dysfunction (Fig.1). Moreover, patients with more advanced cognitive impairment, showed increased rCBM in the brainstem, cerebellum and putamen (Fig.2). When comparing rCBM with the new score, voxelwise correlation analysis revealed larger clusters as compared to MMSE and UPDRSIII (Tab.1)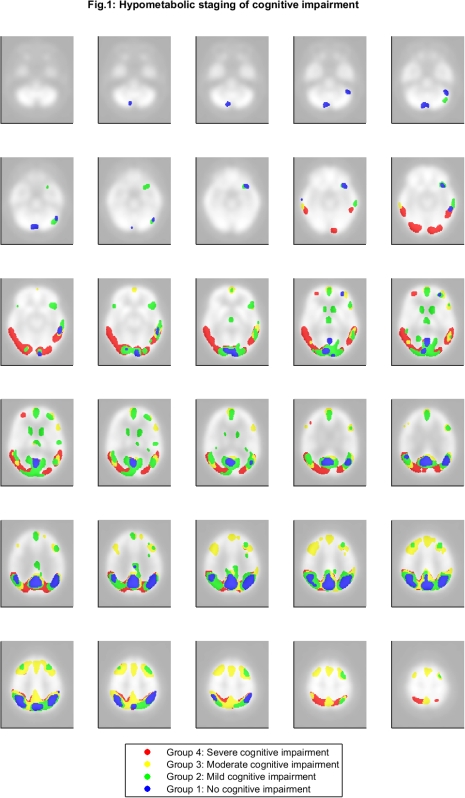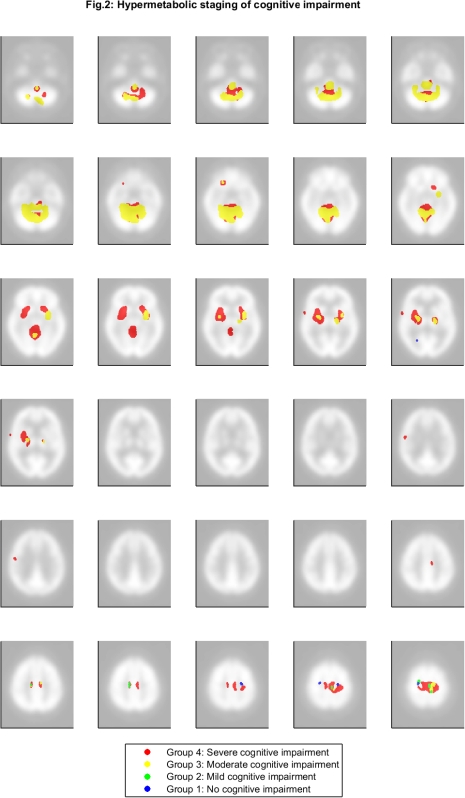 | | | |
| --- | --- | --- |
| | n-cluster | c-cluster |
| New score | 4067 voxels | 827 voxels |
| MMSE | 687 voxels | 101 voxels |
| UPDRSIII | no significant voxels | no significant voxels |
Tab.1: Number of voxels with p<0.001. n(eurodegenerative)-cluster: lower rCBM associated with higher severity; c(ompensatory)-cluster: higher rCBM associated with higher severity.
Conclusions: The new cognitive score (and to a lesser extent the MMSE and UPDRS), are related to distinct rCBM changes in PD. Worsening cognitive impairment is associated with a systematic expansion of cortical hypometabolism. Glucose hypermetabolism in cerebellum, brainstem and putamen might argue for potential compensatory networks in advanced cognitive decline. 1Eidelberg, Review 2009.
To cite this abstract in AMA style:
D. Blum, M. Reimold, W. Maetzler, C. la Fougère, G. Reischl, D. Berg, I. Liepelt-Scarfone. Staging of cognitive impairment: Validation of a novel cognitive score with [
18
F]FDG-PET [abstract].
Mov Disord.
2016; 31 (suppl 2). https://www.mdsabstracts.org/abstract/staging-of-cognitive-impairment-validation-of-a-novel-cognitive-score-with-18ffdg-pet/. Accessed September 25, 2023.
« Back to 2016 International Congress
MDS Abstracts - https://www.mdsabstracts.org/abstract/staging-of-cognitive-impairment-validation-of-a-novel-cognitive-score-with-18ffdg-pet/