Session Information
Session Time: 1:45pm-3:15pm
Location: Agora 3 West, Level 3
Objective: To conduct a systematic review of the therapeutic evidence for Mucuna Pruriens (MP) in the treatment of Parkinson's disease (PD).
Background: MP or Velvet bean is a tropical legume native to Africa and tropical Asia. As MP seeds are rich in levodopa (LD), which remains the gold standard treatment for PD, there is considerable interest in MP as an alternative to LD.
Method: Ovid MEDLINE, PubMed, EMBASE, Web of Science and Cochrane were searched to identify evidence published between January 1975 and January 2019. Only original, full-text articles published in English that determined the therapeutic effects of MP in PD were included in this review [Figure1].
Results: From the 68 results gained from the screening process, 17 full-length articles were selected for further review. Five articles fulfilled the selection criteria [table1]. MP demonstrated efficacy in PD patients who received and did not receive traditional LD medication as determined by motor and non-motor symptoms scales. Compared to LD combined with a dopa-decarboxylase inhibitor (DDCI), a dose of MP between 2.5-fold to 3.5-fold of LD showed similar benefits on motor score and dyskinesia, whereas a dose of MP at 5-fold of LD demonstrated increased on-time duration and decreased on-time latency without exacerbation of dyskinesia. However, the side effects of MP were significant increased, leading to premature discontinuation in 50% of patients.
Conclusion: Considering the lack of a DDCI, MP provides equivalent benefit to LD when its dose is at least 2.5-fold of LD and an increased on-time without exacerbation of dyskinesias suggests that MP formulation might offer an advantage over conventional LD. Assessment of long-term efficacy and tolerability in a randomized, controlled study is warranted.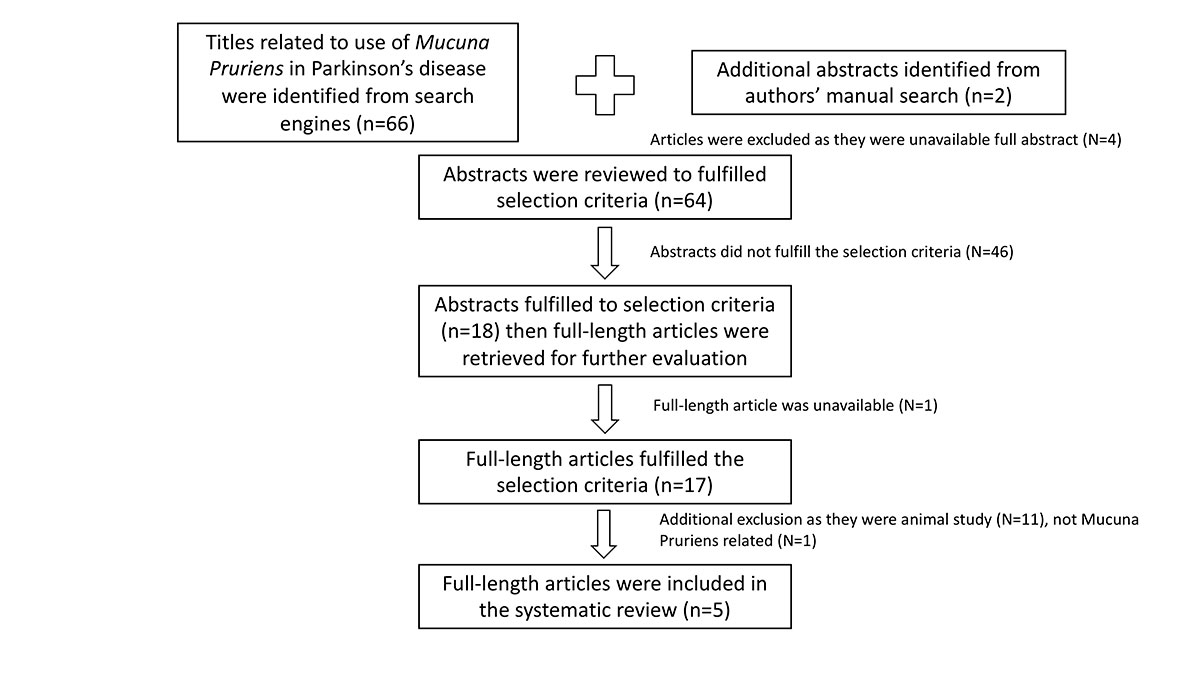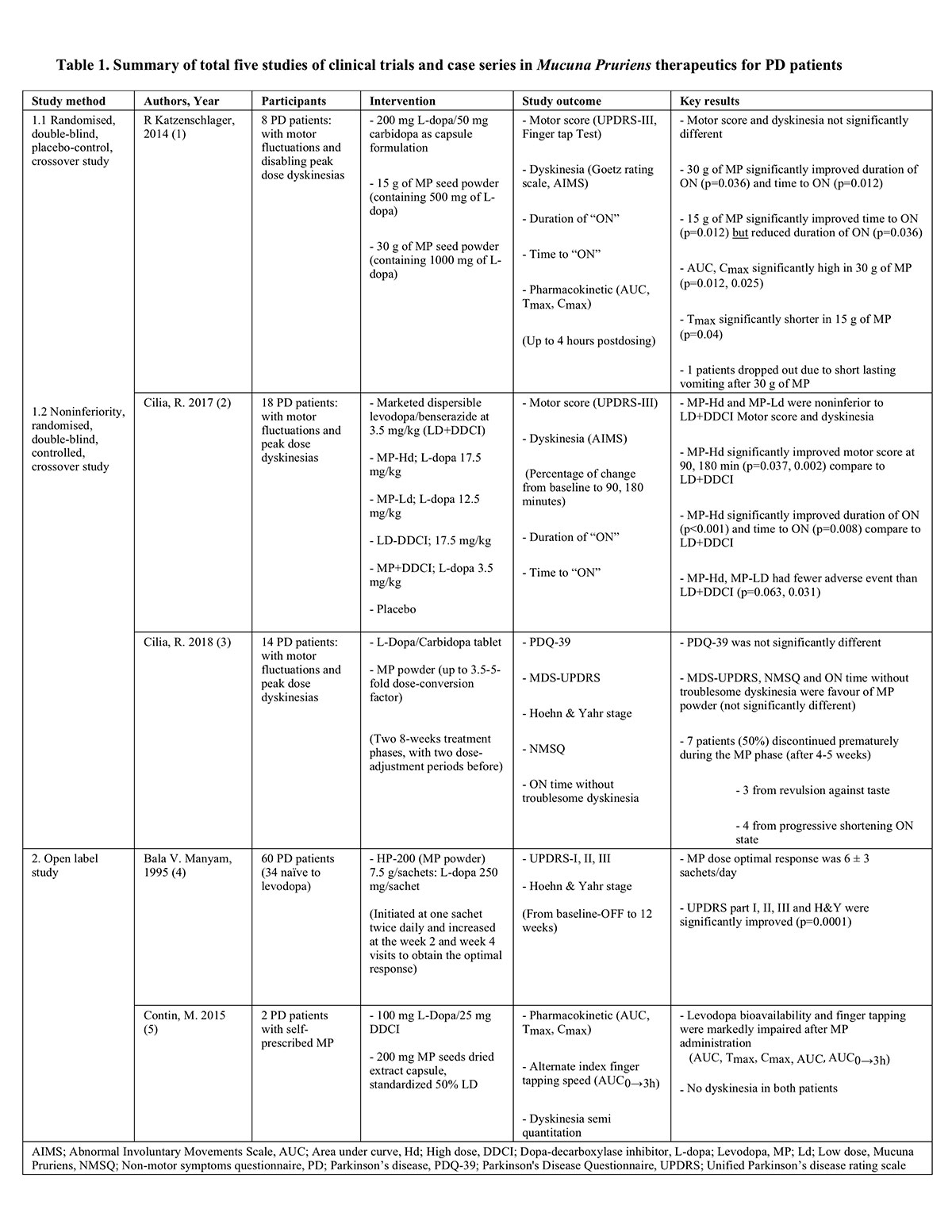 References: 1. Katzenschlager R. Mucuna pruriens in Parkinson's disease: a double blind clinical and pharmacological study. Journal of Neurology, Neurosurgery & Psychiatry. 2004;75(12):1672-1677. 2. Cilia R, Laguna J, Cassani E, Cereda E, Pozzi N, Isaias I et al. Mucuna pruriens in Parkinson disease. Neurology. 2017;89(5):432-438. 3. Cilia R, Laguna J, Cassani E, Cereda E, Raspini B, Barichella M et al. Daily intake of Mucuna pruriens in advanced Parkinson's disease: A 16-week, noninferiority, randomized, crossover, pilot study. Parkinsonism & Related Disorders. 2018;49:60-66. 4. Manyam B. An Alternative Medicine Treatment for Parkinson's Disease: Results of a Multicenter Clinical Trial. The Journal of Alternative and Complementary Medicine. 1995;1(3):249-255. 5. Contin M, Lopane G, Passini A, Poli F, Iannello C, Guarino M. Mucuna pruriens in Parkinson Disease. Clinical Neuropharmacology. 2015;38(5):201-203.
To cite this abstract in AMA style:
TH. Boonmongkol, O. Phokaewvarangkul, S. Vimolmangkang, R. Bhidayasiri. Systematic review of Mucuna Pruriens as a treatment for Parkinson's disease [abstract].
Mov Disord.
2019; 34 (suppl 2). https://www.mdsabstracts.org/abstract/systematic-review-of-mucuna-pruriens-as-a-treatment-for-parkinsons-disease/. Accessed December 3, 2023.
« Back to 2019 International Congress
MDS Abstracts - https://www.mdsabstracts.org/abstract/systematic-review-of-mucuna-pruriens-as-a-treatment-for-parkinsons-disease/