Session Information
Session Time: 1:45pm-3:15pm
Location: Hall 3FG
Objective: To analyze the prevalence and the evolution of toe dystonia in parkinson's disease (PD) patients candidate to subthalamic nucleus deep brain stimulation (STN-DBS).
Background: Off state toe dystonia is a symptom frequently encountered in PD, but little is known about its evolution after STN-DBS.
Methods: Individual data of consecutive 130 parkinson's disease patients who underwent STN-DBS between 2010 and 2015 were collected. The presence of toe dystonia before and/or after surgery and the delay of appearance of toe dystonia after DBS for patients free of this symptom before were assessed retrospectively by medical records analysis and patients' interviews as such information could have been missing in the files.
Results: Data were successfully collected in 95 patients. Toe dystonia was present in 32.7% of patients before surgery and was alleviated by STN-DBS in 48% of the cases. Motor improvement provided by STN-DBS, levodopa-equivalent treatment diminution after surgery, disease duration or age at the time of surgery were not predictive of toe dystonia evolution. A younger age at PD diagnosis was significantly associated with TD resolution.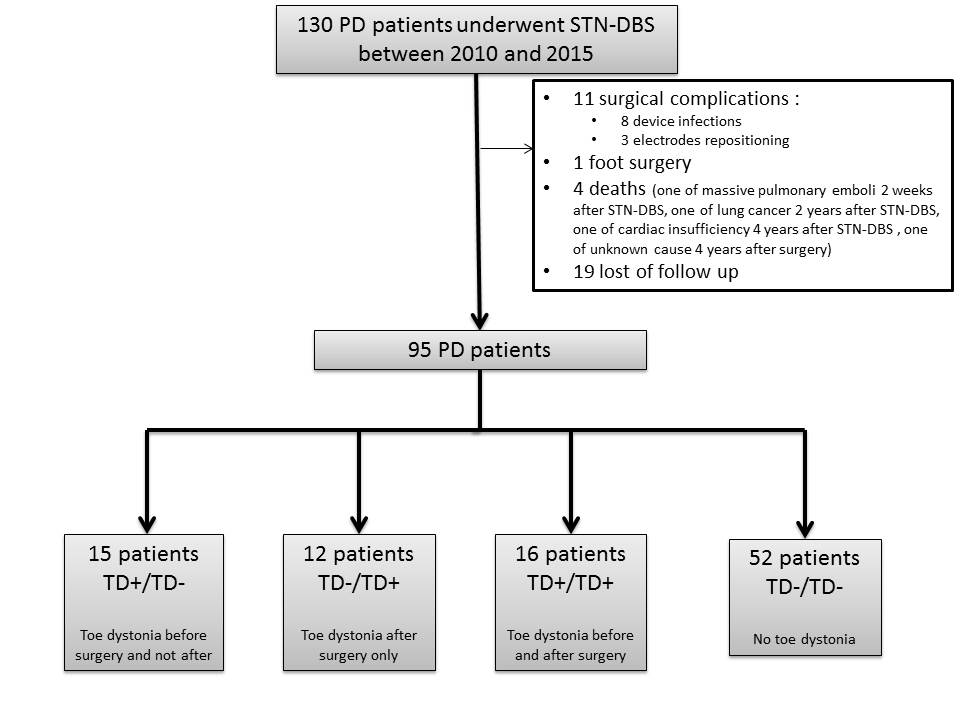 Conclusions: STN-DBS is partially efficient for toe dystonia but its evolution seems independent of significant predictive factors. Therefore, one has to remain cautious about patients' expectations regarding the evolution of this symptom after STN DBS.
References: Gupta AD, Visvanathan R. Botulinum toxin for foot dystonia in patients with Parkinson's disease having deep brain stimulation: A case series and a pilot study. J Rehabil Med. 2016 Jun 13;48(6):559-62. Warren Olanow C, Kieburtz K, Rascol O, et al. Factors predictive of the development of Levodopa-induced dyskinesia and wearing-off in Parkinson's disease. Mov Disord. 2013;28:1064–1071.
To cite this abstract in AMA style:
C. Laurencin, S. Montaut, T. Danaila, C. Vial, S. Thobois. Toe dystonia in Parkinson's disease: Impact of subthalamic nucleus deep brain stimulation [abstract].
Mov Disord.
2018; 33 (suppl 2). https://www.mdsabstracts.org/abstract/toe-dystonia-in-parkinsons-disease-impact-of-subthalamic-nucleus-deep-brain-stimulation/. Accessed December 7, 2023.
« Back to 2018 International Congress
MDS Abstracts - https://www.mdsabstracts.org/abstract/toe-dystonia-in-parkinsons-disease-impact-of-subthalamic-nucleus-deep-brain-stimulation/