Objective: To use a novel Pneumatic Garment device for treatment of nOH in MSA.
Background: nOH is present in 66-90% of patients with MSA and is a major cause of disability [1]. nOH is a major reason for falls with resultant injuries and wheelchair dependence in MSA. Pharmacologic management of nOH with Fludrocortisone, Midodrine, Droxidopa, Pyridostigmine and Triptans provides sub-optimal relief and can cause supine hypertension with resultant renal and cardiac damage [2].
Method: Our study comprised three patients of MSA with nOH controlled sub optimally with drugs [Table 1] out of which two patients had documented orthostatic hypotension and one patient had symptoms consistent with nOH. The patients were given a trial of a wearable pneumatic pressure garment device which utilised sensors, micro-controller, light weight pressurised air canisters and wide compression bands which were sewn in the garment itself covering the calf and the mid-thigh [Fig. 1,2]. The sensors were activated as soon as the patient assumed the upright posture and sequential pneumatic compression ensued with a lag between the calf and thigh compression, in an attempt to milk the venous blood upwards. Effective pneumatic compression was achieved whithin two seconds of the patients assuming an upright posture.
Results: All three patients had improvement in nOH symptoms [Table 2]. In two patients, the garment device prevented the orthostatic hypotension along with providing symptomatic relief [Fig. 3]. One of the patient who only had symptoms of nOH like dizziness and palpitations had significant improvement in her symptoms while using the garment device.
Conclusion: This wearable garment device may prove to be efficacious treatment for nOH, which has proven tough to treat solely with drug therapy because of partial response rates and supine hypertension syndrome as a limiting side effect with drug therapy.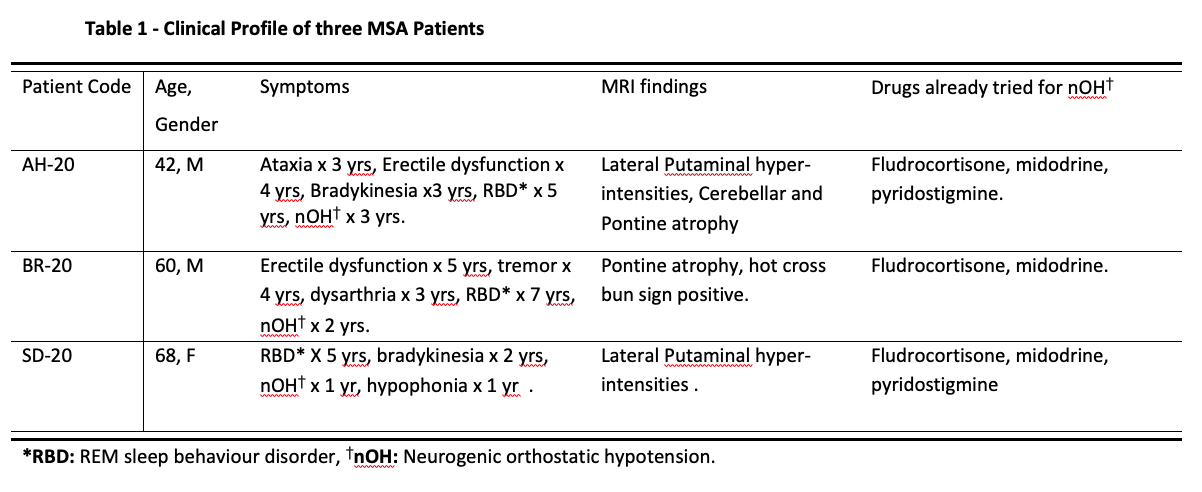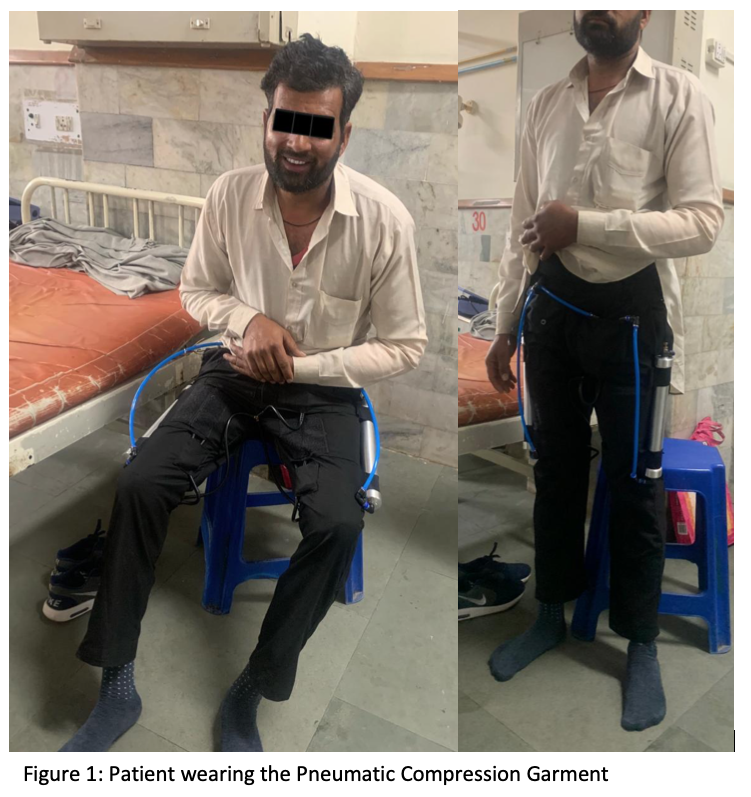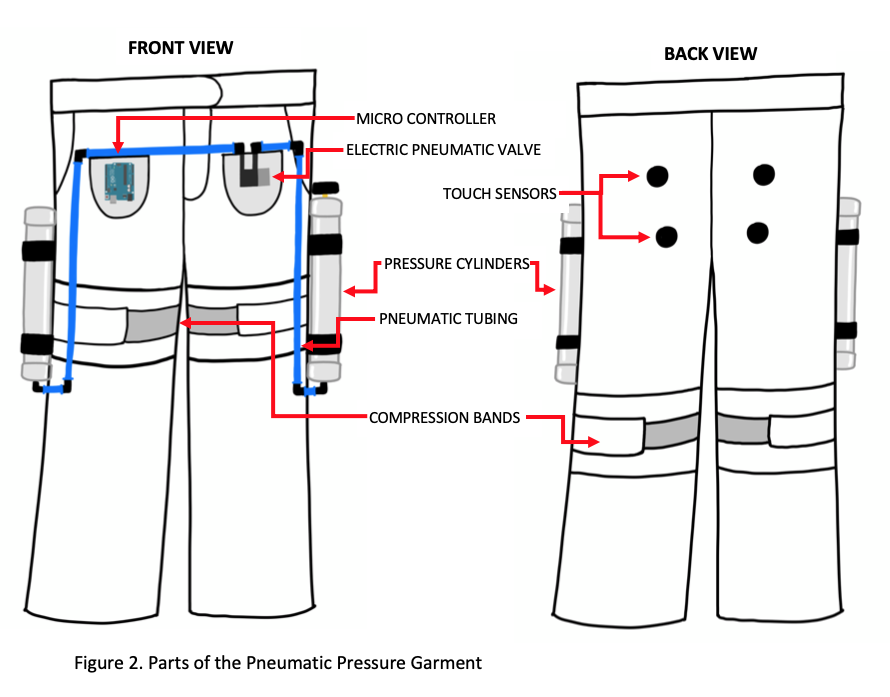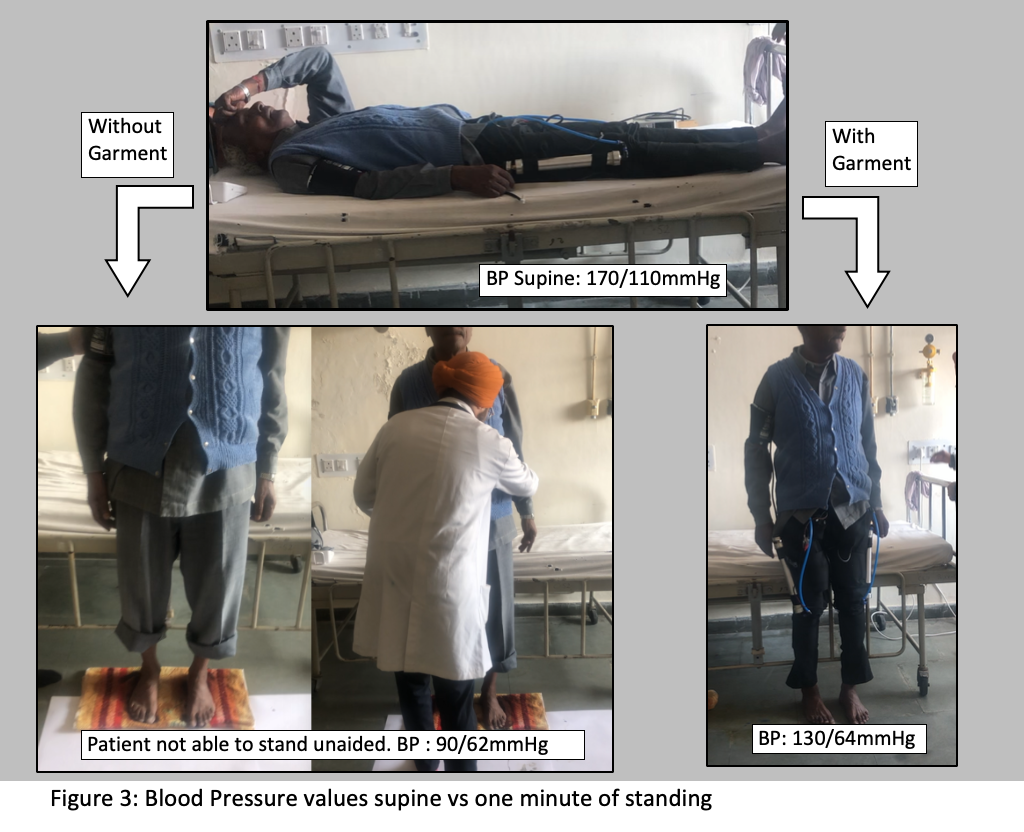 References: 1. Cutsforth-Gregory JK, Low PA. Neurogenic Orthostatic Hypotension in Parkinson Disease: A Primer. Neurology and therapy. 2019 Aug 1:1-8. 2. Palma JA, Kaufmann H. Epidemiology, diagnosis, and management of neurogenic orthostatic hypotension. Mov Disord Clin Pract 2017;4:298-308
To cite this abstract in AMA style:
N. Sawal, H. Singh, A. Beri. Treatment of Neurogenic Orthostatic Hypotension (nOH) in Multiple System Atrophy (MSA) with a wearable Pneumatic Compression Garment utilising Soft Robotics [abstract].
Mov Disord.
2020; 35 (suppl 1). https://www.mdsabstracts.org/abstract/treatment-of-neurogenic-orthostatic-hypotension-noh-in-multiple-system-atrophy-msa-with-a-wearable-pneumatic-compression-garment-utilising-soft-robotics/. Accessed December 4, 2023.
« Back to MDS Virtual Congress 2020
MDS Abstracts - https://www.mdsabstracts.org/abstract/treatment-of-neurogenic-orthostatic-hypotension-noh-in-multiple-system-atrophy-msa-with-a-wearable-pneumatic-compression-garment-utilising-soft-robotics/