Session Information
Session Time: 12:30pm-2:00pm
Location: Exhibit Hall located in Hall B, Level 2
Objective: Evaluation of the [ 99mTc] – TRODAT- 1 SPECT in the diagnosis of PD and other MD. Create a DATA bank for our population.
Background: Reduction of dopaminergic neurotransmission at the striatum that can be indirectly evaluated by PET and SPECT images, using radiotracer-based functional imaging(RTFI). We can use dopamine radiotracers (DRT) that will bind to pre or postsynaptic receptors.
Methods: The study consisted of a prospective, non-interventional, cross-sectional study. The main investigator examined all patients with a questionnaire that included the UPDRS part III, HY scale and Tremor severity scale(TSS). All the exams were made at the same Health facility and Tomographic image (SPECT) was acquired in gamma camera with two detectors. The same nuclear physician examined all the images. All signed the informed consent.
Results: Total of 157 patients were studied. Parkinsonism was diagnosed in 93 patients or 59% including 37 PD, 36 miscellaneous, 23 ET, 17 Atypical parkinsonism, 15 DIP, 6 controls, and 3 PD and ET. The mean UPDRS III was 24. All the patients with PD and those with concomitant VP presented changes in the TRODAT images. We considered pure vascular parkinsonism those with normal TRODAT images and MRI with Fazekas 2 or 3. The [ 99mTc] – TRODAT- 1 SPECT was normal in 52 patients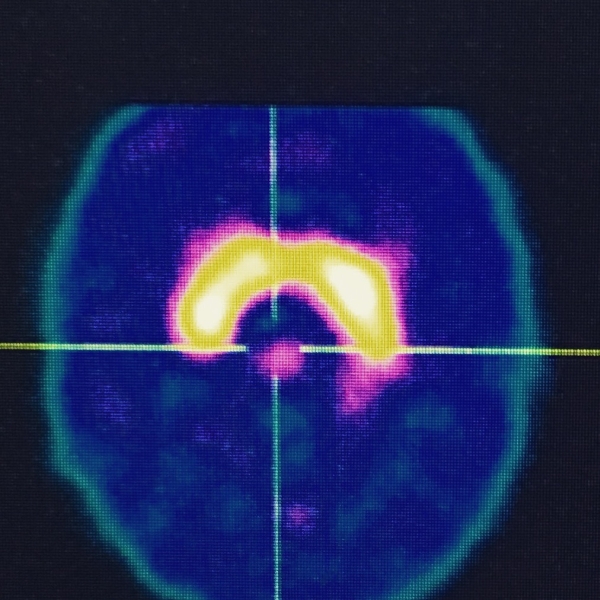 , 87 showed asymmetry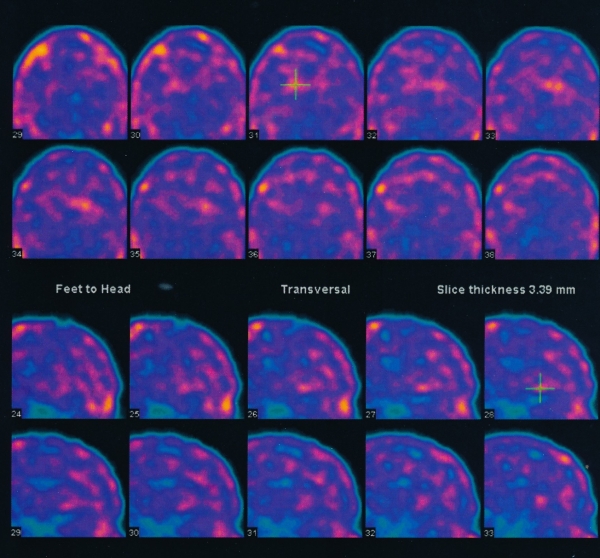 and 27 with symmetry. In 35% of the ET patients we found images abnormalities.
Conclusions: We evaluated the [ 99mTc] – TRODAT- 1 SPECT in the diagnosis of PD and other MD in Brazil. As expected all the patients with classical PD had abnormal TRODAT image. In patients with clinically definite ET (Classic forms) we observed TRODAT changes in 35%, most were asymmetric. In our study we observed the importance of the [ 99mTc] – TRODAT- 1 SPECT to differentiate the Parkinsonian syndromes. DIP causes post synaptic changes and the TRODAT images are usually normal, as it occurred in our patients with DIP caused by cinnarizine and flunarizine. In a recent paper Erro R et al supported the hypothesis that neuroleptic exposure represents in itself a risk factor for subsequent development of degenerative PD. Our patients with DIP and concomitant DIP were exposed to the agents during many years, supporting the hypothesis that long-term neuroleptic exposure is in itself a risk factor for developing subsequent PD.
To cite this abstract in AMA style:
G. Fabiani, R. Martins Filho, H.A.G. Teive. Evaluation of the [ 99mTc] – TRODAT- 1 SPECT in the diagnosis of Parkinson's disease and other movement disorders [abstract].
Mov Disord.
2016; 31 (suppl 2). https://www.mdsabstracts.org/abstract/evaluation-of-the-99mtc-trodat-1-spect-in-the-diagnosis-of-parkinsons-disease-and-other-movement-disorders/. Accessed December 5, 2023.
« Back to 2016 International Congress
MDS Abstracts - https://www.mdsabstracts.org/abstract/evaluation-of-the-99mtc-trodat-1-spect-in-the-diagnosis-of-parkinsons-disease-and-other-movement-disorders/