Objective: To highlight the role of electrophysiological study (Ephy) as a useful diagnostic tool.
Background: Tics with functional overlay are characterised by acute worsening of tic-like behaviours in organic tics or tic-like behaviours that are refractory to multiple treatments, which can make a diagnosis challenging.
Method: We reported a case of Tourette syndrome (TS) with functional overlay.
Results: A 14-year-old girl presented with abnormal movements comprising of repetitive head jerking, ballistic movement of the limbs and vocalisation which developed at the age of 9 after parental divorce. She reported a premonitory urge and that movements waxed and waned. Multiple trials of medications together with cognitive behavioral therapy (CBT), failed to control her symptoms. She started having an abrupt onset of severe generalised jerks when her school reopened after the COVID pandemic. As a result, she was referred for DBS.
On physical examination she had variable generalised ballistic like movements and repetitive flexion-hyperextension jerk-like movements of the neck. The movements were partially suppressible but remarkably distractable.
Multichannel surface EMG on the neck, trunk, arms and leg muscles on the left revealed an inconsistent EMG pattern of variable EMG onset and very long EMG burst durations (figure1). With mental tasks, the large EMG burst at bilateral arms and trunk disappeared and only short EMG bursts, with consistent EMG patterns starting at the semispinalis with rostrocadual progression were demonstrated (figure2). Bereitschaftspotential (BP) was not detected in either spontaneous or intended wrist extension movements. The evidence from Ephy suggested the diagnosis of TS (stereotyping neck movements) with functional overlay (large amplitude arms and trunk movements).
[figure1]
[figure2]
Discussion
Differentiation between tics and tic-like behaviour are difficult due to clinical overlap (table1). Attention can influence both tics and functional tics, but this influence is much stronger in functional tics, leading to positive distractibility. In this case, Ephy documents inconsistent EMG patterns with variable EMG bursts mimicking voluntary movements and distractibility with unmasking organic tic movements.
[table1]
Conclusion: Ephy is a helpful tool to identify functional overlay in primary tics, leading to appropriate treatment and avoiding an unnecessary invasive therapeutic procedure.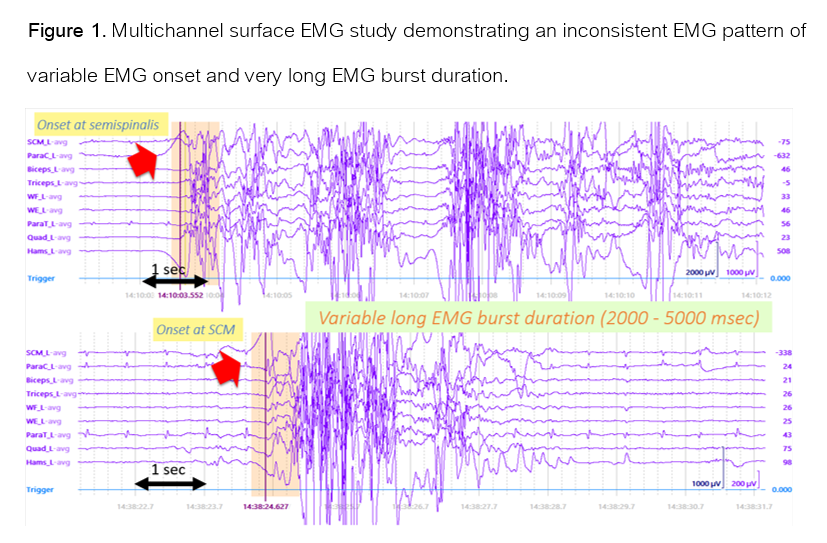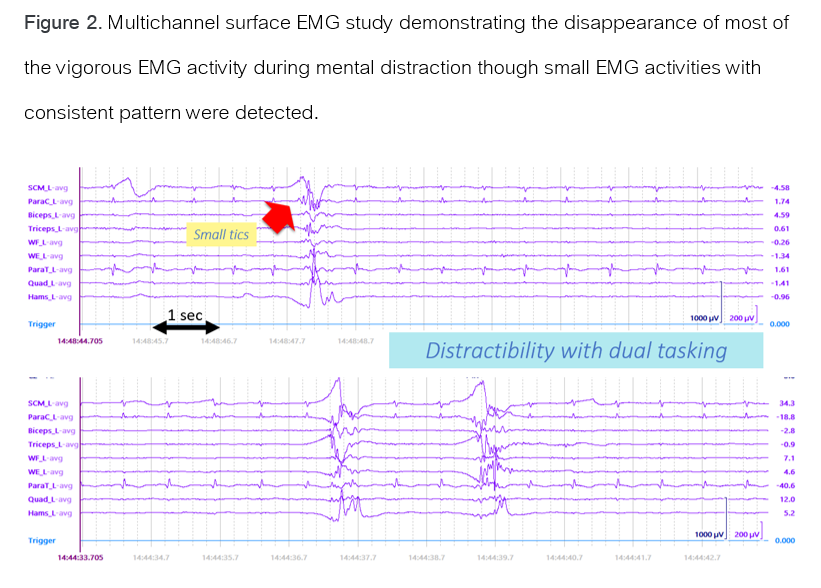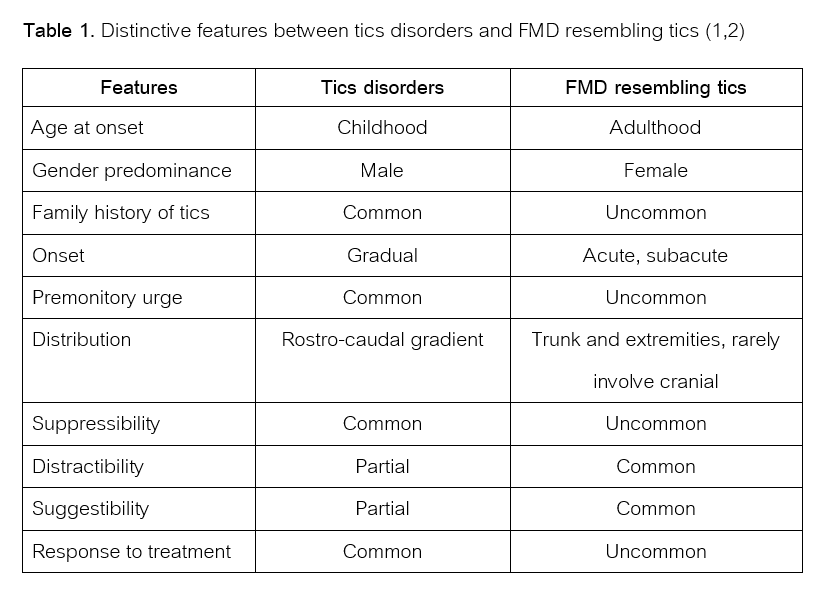 References: 1. Ganos C, Martino D, Espay AJ, Lang AE, Bhatia KP, Edwards MJ. Tics and functional tic-like movements: Can we tell them apart? Neurology. 2019 Oct 22;93(17):750-758.
2. Baizabal-Carvallo JF, Jankovic J. The clinical features of psychogenic movement disorders resembling tics. J Neurol Neurosurg Psychiatry. 2014 May;85(5):573-5.
To cite this abstract in AMA style:
O. Udomsirithamrong, R. Bhidayasiri, P. Panyakeaw. Tourette Syndrome with Functional Overlay: A Diagnosis Challenge and The Role of Electrophysiological Study [abstract].
Mov Disord.
2023; 38 (suppl 1). https://www.mdsabstracts.org/abstract/tourette-syndrome-with-functional-overlay-a-diagnosis-challenge-and-the-role-of-electrophysiological-study/. Accessed September 21, 2023.
« Back to 2023 International Congress
MDS Abstracts - https://www.mdsabstracts.org/abstract/tourette-syndrome-with-functional-overlay-a-diagnosis-challenge-and-the-role-of-electrophysiological-study/